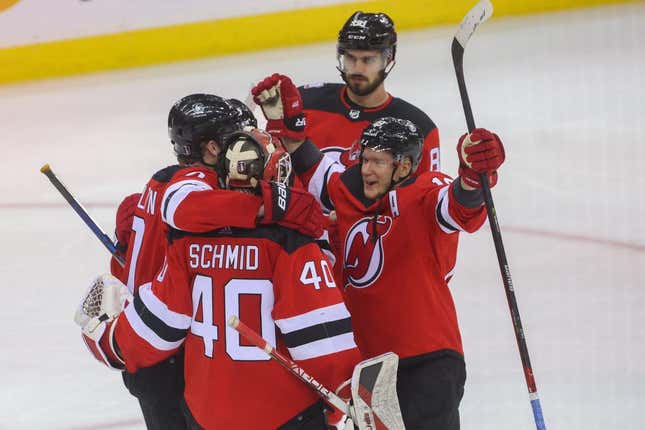 The New Jersey Devils look to advance to the second round of the Stanley Cup Playoffs for the first time in 11 years when they visit the New York Rangers on Saturday
Air Jordans are more American than McDonald's French fries | Deon Cole's Ultimate Sports Fantasy
The Devils enter the contest with a 3-2 series lead, dispatching their Hudson River rivals with a dominant 4-0 win in Game 5. They've won three straight after dropping the first two games of the best-of-seven matchup, outscoring the Rangers 9-2 in that stretch
New Jersey last won a series in 2012 when it made it to the Stanley Cup Final. Since then, the club had qualified for the playoffs only once before this spring, falling in five games to the Tampa Bay Lightning in the first round in 2018.
"As the series goes on, the hardest win always is the fourth one to close a team out," Devils forward Erik Haula said after the game. "It's the first time this series is on the line. We know we're going to get their best, we're going to get everything they've got. We need to start preparation now and quickly once we leave here to get ready for Game 6.
Part of the turnaround has been fueled by the play of rookie goalie Akira Schmid, who started Game 3 after Vitek Vanecek had the net for the first two contests. Coach Lindy Ruff noted the change had less to do with Vanecek's play and more that the coaching staff "took a shot" while the players cleaned up their defensive game in front of their netminder.
Schmid, who turns 23 in two weeks, appeared in 18 games for the Devils in the regular season, going 9-5-2 with a 2.13 goals-against average and .922 save percentage. Through three postseason appearances, he's riding a 0.63 GAA and .976 save percentage after a 23-save effort last game
"He's making it look so easy," captain Nico Hischier said. "We were joking, check his pulse after the game. It just seems like he's never losing his mind or never losing his focus. He makes those saves look easy and that obviously gives a push to the team and gives confidence to the team."
One week ago, the Rangers appeared to be in control of the series with 5-1 victories in each of the first two games
Not helping an offense that has gone dry is a sputtering power play. The man advantage is mired in a 0-for-13 funk and has scored just twice in the past 17 opportunities. In Game 5, they gave up a short-handed goal.
"You've got to keep level-headed but, of course, you're frustrated," defenseman Adam Fox said. "You want to score, you want to win games and, obviously, at this time of year, you need to win games to keep your season alive."
Chris Kreider leads the team with five goals in the postseason, Vladimir Tarasenko is next with two, and no one else has more than one. Mika Zibanejad, who led the team with 39 goals this season, has yet to find the back of the net and has just two assists. Artemi Panarin has the same stat line after a 29-goal output in the regular season.
"We've got to get pucks behind them," captain Jacob Trouba said. "You can't be stubborn with how you play. You have to play the game in front of you. You can't force pucks at the blue line and red line and turn it over. That's not a recipe to win against that team."
--Field Level Media