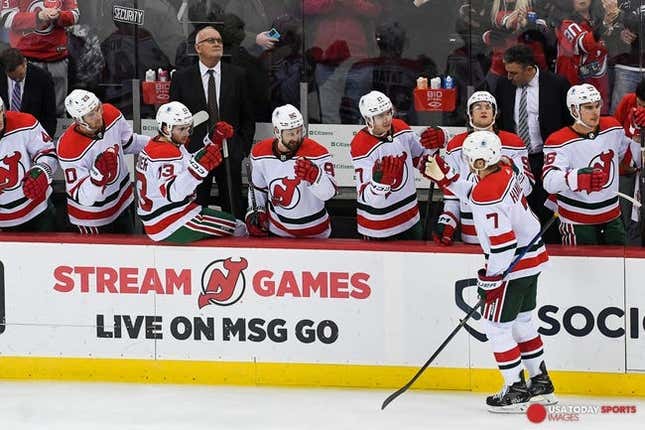 The New Jersey Devils will bid to move into first place in the Metropolitan Division on Sunday when they visit the Winnipeg Jets
Bass' ERA stinks, but not compared to who he is off the mound | Worst of the Week Countdown
The Devils (48-20-8, 104 points) have answered a difficult 1-3-2 stretch by winning three of four games to reside one point behind the Carolina Hurricanes in the Metro. The Hurricanes, who will host the New York Islanders earlier on Sunday, have played one fewer game than New Jersey
The Devils kept their good fortune going Saturday by scoring three goals in both the second and third periods in a 6-3 victory over the Chicago Blackhawks
Erik Haula scored a goal in his third straight game and Timo Meier tallied in his second consecutive contest to boost his career-high total to 37.
Meier knows it's a fine line to keep tabs on the standings before each and every game.
"You don't want to overthink it, you want to go out there and play your best game every night," Meier said. "But you also have to realize you're fighting for home-ice advantage. It's big in the playoffs."
Like Haula and Meier, Dougie Hamilton also collected a goal and an assist Saturday. He now has 20 goals this season, making him the third defenseman in franchise history to reach that plateau and first since the club was based in New Jersey.
Dawson Mercer scored a goal Saturday and had two in the Devils' 4-2 victory over Winnipeg on Feb. 19
While New Jersey is pressing for a division title, Winnipeg (42-31-3, 87 points) is focused on a wild-card spot in the Western Conference. The Jets, who occupy the second wild card, are nursing a two-point lead over the Calgary Flames and a three-point advantage over the Nashville Predators
Mark Scheifele was one of five Winnipeg players to collect a goal and an assist on Friday, helping the team open its current five-game homestand with a 6-2 romp over the Detroit Red Wings.
"We're a tough team when we play like that," Scheifele said. "When we're on our toes we make it hard to play against, and when we play in the O-zone we're a tough team. That was a big one for us."
The offense was a welcome sight for the Jets, who were outscored 7-1 during their previous two-game skid and shut out on three occasions in a seven-game stretch
"The puck had to go in for us," Winnipeg coach Rick Bowness said. "You need some breaks. Look at Mark's goal, all of a sudden he's coming around the net, he knocks it in. It's there. We haven't had those breaks in a long time. Even that first goal (by Kyle Connor), the tip. We haven't had that luck around the net in a long time and it was good to see."
The Jets hope to have offensive-minded defenseman Josh Morrissey (illness) back in the lineup
"We expect him to play (on Sunday)," Bowness said. "He's probably going to skate (Sunday) morning. At this point, talking to him (on Saturday) morning -- well, texting with him -- he's feeling a lot better."
--Field Level Media