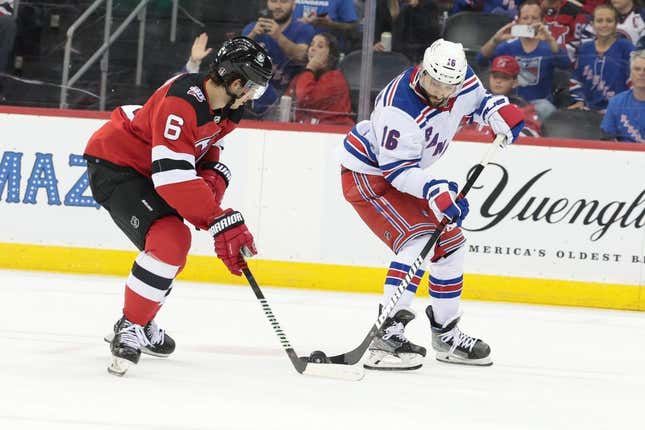 The New Jersey Devils are looking to turn around their series against the New York Rangers when they visit Madison Square Garden for Game 3 on Saturday
Bass' ERA stinks, but not compared to who he is off the mound | Worst of the Week Countdown
New Jersey, seeded second in the Metropolitan Division, dropped the first two games to the third-seeded Rangers by identical 5-1 scores on home ice
The youthful Devils, who owned a 3-0-1 mark against the Rangers in the regular season, are losing the special teams battle badly while still seeking their first five-on-five goal
"The team has always been up for an incredible challenge and they're going to battle to the bitter end," New Jersey coach Lindy Ruff said after Game 2 on Thursday. "They're facing some veteran players that have been through wars ... but this group has a lot of heart. They've got a lot of desire."
So far those attributes haven't added up to stopping Chris Kreider on the power play. The Rangers' veteran has scored two power-play goals in each of the first two games, tipping and deflecting pucks past Devils goalie Vitek Vanecek from near the net
"He's one of the best, not only in the league, but just that I've ever seen," teammate Patrick Kane said of Kreider's ability near the net. "He's able to get his stick on everything."
Kreider is the first player in NHL history to score four power-play goals in the first two games of a series.
Kane enjoyed a breakout performance in Game 2, scoring a goal and assisting on both Kreider tallies. Adam Fox had two assists, upping his total to six in the first two games.
At the other end, New York held speedy New Jersey, one of the highest-scoring teams in the league during the regular season, to 24 shots on goal. Igor Shesterkin made 23 saves.
"That's exactly what we wanted to do," Rangers coach Gerard Gallant said. "The 10 goals (in two games) are nice, but it's even better to play defense the way we played. ... That's what it's going to take in the playoffs.
New York went 2-for-7 on the power play Thursday and is 4-for-10 in the series; New Jersey went 1-for-4 Thursday and is 1-for-8 in the series, with their Game 1 goal coming on a penalty shot.
Erik Haula scored and Vanecek made 25 saves for the Devils
Ruff could shake up his lineup in Game 3 and move from Vanecek to Akira Schmid. He could also activate speedy 19-year-old Luke Hughes, younger brother of Jack, to provide a spark on offense.
"Coach said it best after the game, we started the season 0-2 and then went on a run," New Jersey's John Marino said. "There's a lot of hockey left, a lot of things to learn from these two games. We've just got to worry about the details."
Meanwhile, after a run to the conference finals last season, the Rangers aren't taking anything for granted this time around
"We played enough series last year to know that nothing is a given," captain Jacob Trouba said. It's a seven-game series, so we'll go home and try to take care of business on home ice."
New York is 5-1 when winning the first two games of a best-of-seven on the road.
--Field Level Media