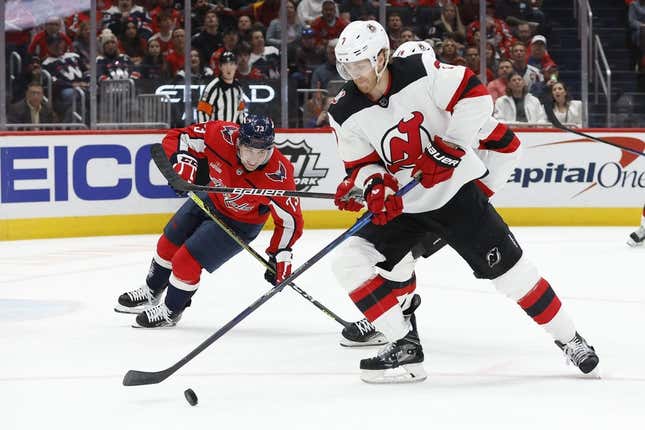 One of the NHL's fiercest rivalries will return to the postseason stage Tuesday night as the New Jersey Devils host the New York Rangers in Game 1 of their first-round Stanley Cup playoff series in Newark, N.J
Does Jimmy Butler have the best NBA Finals origin story? | Agree to Disagree
The Rangers reached the Eastern Conference finals last season, falling to the Tampa Bay Lightning in six games after New York had won the first two in the series
While the Rangers have long expected to be a force in this year's postseason, the Devils are in the playoffs for the first time since 2018, and for just the second time in 11 seasons
New Jersey amassed plenty of young talent during its rebuilding period, but few anticipated the extent of the Devils' breakout. After accumulating only 63 points in the 2021-22 season, the Devils posted a team-record 112 points for the biggest year-to-year points increase in NHL history
The question facing the Devils is how a team relatively short on postseason experience will fare in the race for the Stanley Cup. Eleven-year veteran Dougie Hamilton feels his younger teammates are up to the challenge
"Everyone's played big games before, whether it's junior playoffs or World Juniors and different stuff like that," Hamilton said. "So I think everyone will be fine. End of the day, it's hockey: Everyone's going to go out there and do their best."
The Rangers got a close look at the Devils' improvement during the regular season. New Jersey was 3-0-1 in the four meetings, with three games decided by a single goal
"I look at the two teams and they're very comparable," Rangers coach Gerard Gallant told the New York Post. "It's not a physical, grinding game either way. There's a lot of skill and a lot of talent on both sides. Who executes the best and who defends the best and manages the puck the best is probably going to win.
While the Rangers managed only a third-place finish in the Metropolitan Division this season, they might be peaking at the right time
New York was 12-3-4 in its last 19 games. Over the Rangers' 21 games from March 2 to the end of the regular season, New York ranked first in the league at killing penalties (45-for-50) and ranked sixth in power-play percentage (16-for-59)
Goaltending may be an advantage for New York, considering Igor Shesterkin's proven track record in both the regular season and postseason. The 2022 Vezina Trophy winner had a 2.59 goals-against average over 20 games in last year's playoffs.
Vitek Vanecek's playoff record is a modest 1-1 with a 4.25 GAA over three games as a member of the Washington Capitals. But since the Devils acquired him from Washington in a trade last July, Vanecek delivered a 2.45 GAA over 52 games this season
Forward Michael McLeod missed the Devils' last two games with an undisclosed injury but has returned to practice and is expected to be available for Game 1
The Rangers have won four of the six prior playoff series between the two teams, most memorably their seven-game triumph in the legendary 1994 Eastern Conference finals, when New York won Game 7 in double-overtime
In the most recent playoff encounter, in the 2012 Eastern Conference finals, New Jersey eliminated the Rangers in six games
--Field Level Media