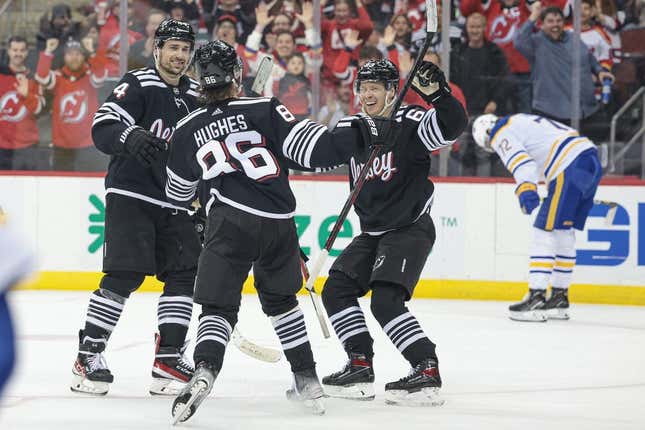 The Washington Capitals are used to spending the final week of the regular season preparing for the playoffs
Does Jimmy Butler have the best NBA Finals origin story? | Agree to Disagree
The New Jersey Devils, in turn, had grown accustomed to associating mid-April with the beginning of an uncertain offseason
The roles will be reversed Thursday night, however. The Devils (51-22-8, 110 points) hope to capture the Metropolitan Division title when they visit the Capitals (35-37-9, 79 points) in the regular-season finale for both teams
New Jersey resides one point behind the first-place Carolina Hurricanes (51-21-9, 111 points), who visit the Florida Panthers on Thursday in their regular-season finale. The Hurricanes would wrap up the division title with a victory on Thursday, while a loss of any kind would open the door for the Devils
If applicable, New Jersey would win a tiebreaker with Carolina by virtue of having more regulation wins. The team that finishes in second place in the Metropolitan Division will face the third-place New York Rangers in the first round of the playoffs.
The Devils rolled to a 6-2 win over the Buffalo Sabres on Tuesday, while the Capitals dropped a 5-2 decision to the Boston Bruins
New Jersey is headed to the playoffs for the first time since the 2017-18 season and the second time since advancing to the Stanley Cup Final in 2012.
"I'm not that surprised," said Devils left winger Tomas Tatar, who scored twice in the third period on Tuesday to become New Jersey's sixth player with at least 20 goals this season
"Because honestly, I could tell the talent we had here last year and the result we got last year wasn't the projection where we should be."
Tuesday's win enabled the Devils to claim home-ice advantage in the first round for the first time since 2009-10
"You work so hard throughout the year and our fans support us so much, so the fact that we get to kick off Game 1 and we play at the Rock, we know our fans are going to bring it," Jack Hughes said. "So we're really excited. As much as it is for us, it's for them too."
The Capitals aren't where they're accustomed to be at this time of season
Washington will miss the postseason for the first time since the spring of 2014 and just the second time since 2006-07.
The Capitals, who haven't won a playoff round since winning the Stanley Cup in 2018, fell out of the race by losing 20 of their last 27 games (7-17-3)
But Washington has one more chance to play spoiler, just as it did Monday night. Washington skated to a 5-2 victory over the New York Islanders.
"I think we've been a tough team to play against the last couple nights," Capitals forward Tom Wilson said. "We've been giving it our all and we've put some pretty good teams to the test and made them work. We're taking pride in our game and just trying to leave it out there.
--Field Level Media