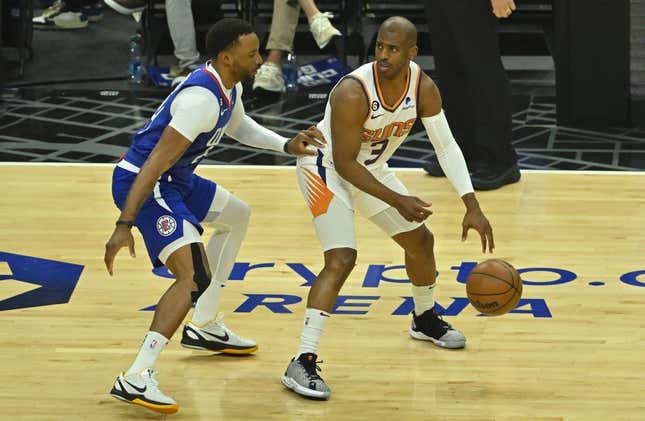 Devin Booker recorded 45 points, seven rebounds and three steals to lead the visiting Phoenix Suns to a 129-124 victory over the short-handed Los Angeles Clippers on Thursday night
Are the Oakland A's a failed state? | Agree to Disagree
Kevin Durant added 28 points as fourth-seeded Phoenix took a 2-1 lead in the best-of-seven Western Conference first-round series.
Kawhi Leonard (knee) sat out for the Clippers and Norman Powell moved into the starting lineup and established a personal playoff career high with 42 points. Russell Westbrook added 30 points, 11 assists and eight rebounds for fifth-seeded Los Angeles, which has dropped the past two games after winning the series opener
Game 4 is scheduled for Saturday at Los Angeles.
Westbrook made two free throws with 1:44 remaining as the Clippers, who trailed by 13 early in the fourth quarter, crept within three. However, Craig drained a 3-pointer 20 seconds later and Booker converted a three-point play with 42 seconds left to give the Suns a 125-116 lead
The Clippers later closed to within five before Durant made four free throws in a span of eight seconds to help Phoenix hold on
Craig scored 15 points, Deandre Ayton added 12 points and 11 rebounds and Chris Paul had 11 points, seven assists and three steals for the Suns
Bones Hyland put up 20 points and fellow reserve Terance Mann had 10 for Los Angeles.
Leonard joined fellow Clippers star Paul George (knee) on the bench. Leonard is listed as day-to-day
Phoenix shot 47.7 percent from the field and connected on 10 of 27 (37 percent) from 3-point range.
Los Angeles hit 54.2 percent from the field and was 15 of 35 (42.9 percent) from 3-point range. Powell made seven treys.
Without Leonard, the Clippers mixed things up in the final quarter with a small-ball lineup for the final nine-plus minutes, with 6-foot-5 guard Mann their tallest player. The gamble allowed Los Angeles to make it a one-possession game before the Suns withheld the charge
Booker scored 21 first-half points and the Suns led 54-51 at the break. Powell had 22 in the half for the Clippers
Craig tallied five straight points early in the third quarter to give Phoenix a 62-53 lead. The advantage was 12 after Durant made two free throws with 7:16 left in the period.
Westbrook scored seven straight points to bring the Clippers within 71-66 with 6:03 left in the quarter. The Suns answered with eight straight points, and Durant's ferocious dunk capped it to increase the margin to 13 with 4:53 remaining
Booker's layup with 1.5 seconds left capped Phoenix's 40-point quarter as the Suns took a 94-85 lead into the final stanza
--Field Level Media