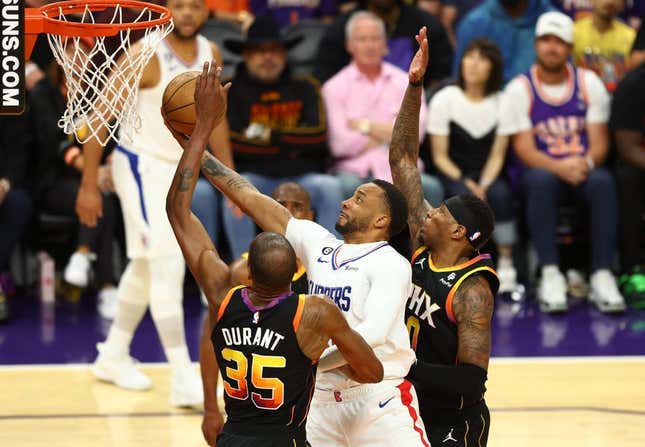 Devin Booker recorded 38 points and nine assists and the Phoenix Suns evened their first-round Western Conference playoff series at one game apiece with a 123-109 victory over the visiting Los Angeles Clippers on Tuesday night
'Soccer fandom is full of gatekeepers' says Ted Lasso actor Brendan Hunt
Kevin Durant added 25 points, six rebounds and five assists as Phoenix rebounded from a Game 1 home loss. Torrey Craig scored 17 points and made five 3-pointers, Chris Paul added 16 points and eight assists and Deandre Ayton had 14 points and 13 rebounds for the Suns
Kawhi Leonard registered 31 points, eight rebounds, seven assists and three steals and Russell Westbrook added 28 points for the Clippers. Eric Gordon and Norman Powell added 12 points apiece and Terance Mann had 10 for Los Angeles
Game 3 of the best-of-seven Western Conference series is Thursday night in Los Angeles.
The Clippers trailed by 13 points early in the fourth quarter but Leonard made a 3-pointer and Westbrook sank two free throws to bring them within 115-109 with 3:13 left. But Los Angeles wouldn't score again
Paul made a high-arcing jumper, fed Ayton for a layup and then drilled a jumper from the top of the key to give the Suns a 121-109 lead with two minutes remaining
Bismack Biyombo scored on a tip-in with 31.1 seconds left to account for a game-high 14-point lead as Phoenix closed out.
The Suns shot 58.8 percent from the field and made 10 of 24 (41.7 percent) from 3-point range
Los Angeles connected on 43.8 percent of its shots, including 11 of 30 (36.7 percent) from behind the arc. The Clippers were again without Paul George (knee), who is unlikely to play in the series
Los Angeles led by as many as 13 points in the second quarter before the Suns took over
Phoenix outscored the Clippers by 13 over the final 5:14 of the half to forge a tie at 59 at the break. Booker's trey with 1.1 seconds left knotted the game
The Suns opened the third quarter with a 12-2 burst, and Craig's trey capped it and gave the Suns a 71-61 lead with 8:39 left in the period
Loa Angeles move within four late in the quarter before Booker drained a 3-pointer to wrap up his 18-point stanza on 7-of-8 shooting. The Suns shot 68.4 percent (13 of 19) in the third quarter to lead 92-87
Paul made back-to-back baskets as part of a 6-0 run to open the final stanza and increase Phoenix's lead to 11 with 9:49 left.
--Field Level Media