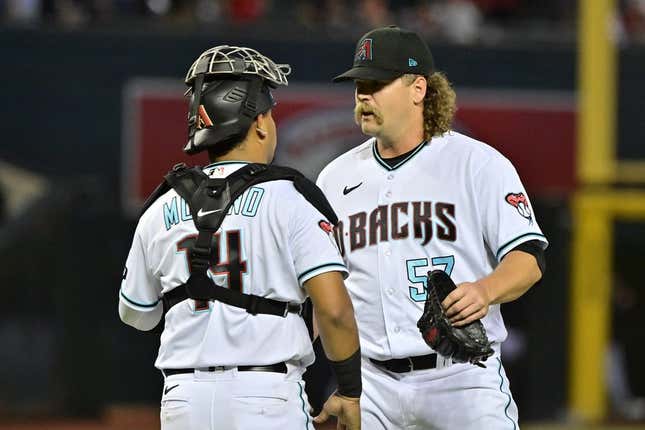 The Arizona Diamondbacks lost 198 games over the previous two seasons, and expectations weren't high in 2023, considering the Los Angeles Dodgers and San Diego Padres reside in the same division
Bass' ERA stinks, but not compared to who he is off the mound | Worst of the Week Countdown
But the Diamondbacks no longer resemble pushovers during the early stages of the 2023 season. They will look for their fifth consecutive victory when they host the Milwaukee Brewers on Tuesday in Phoenix
Arizona used strong pitching to post a 3-0 win in Monday's opener of the three-game set. The contest was the first of a 10-game road trip for the National League-best Brewers
The Diamondbacks remained atop the NL West and have outscored their opponents 32-17 during the four-game winning streak. The first three victories came against the Dodgers
Arizona racked up 23 runs and 33 hits in the final two games of the series against Los Angeles and then used Zac Gallen's stellar pitching to stifle the Brewers on Monday
"I think it is exciting to see how many different ways we can win games," Diamondbacks first baseman Christian Walker said after Monday's win. "Obviously, we manufactured a run early. And to be able to supply the power, that's one way.
Walker was the player who provided the long ball as he deposited a two-run homer over the fence in right-center field in the fifth inning.
"It was great to come up and put up some runs when we needed it," Walker said of his second blast of the season.
Gallen struck out 11 in seven innings as one of three pitchers who combined to allow three hits and fan 15 batters.
Gallen's off-speed pitch mesmerized Milwaukee hitters.
"When he got ahead, he threw curveballs out of the zone a lot and we chased too much," said Brewers ninth-year manager Craig Counsell, who managed his 1,180th game on Monday, tying Phil Garner (1992-99) for the franchise record
Milwaukee has lost two of three contests following a six-game winning streak. The Brewers have been blanked in all three of their setbacks this season
"It's a crazy game. It's a humbling game, too," Brewers third baseman Brian Anderson said of the shutout losses
Milwaukee had just two at-bats with runners in scoring position on Monday, failing to convert on either occasion.
Christian Yelich and Joey Wiemer each struck out three times, and Anderson and Rowdy Tellez both fanned twice.
Diamondbacks right-hander Merrill Kelly (0-1, 3.86 ERA) will attempt to follow up Gallen's splendid start
He has experienced control issues by walking eight in 9 1/3 innings over his first two starts. Kelly walked four in each outing, both coming against the Dodgers.
Kelly, 34, is 2-1 with a 3.13 ERA in six career starts against Milwaukee.
Kelly has handled Yelich (1-for-14) but has struggled with Luke Voit (2-for-7, two homers), Willy Adames (5-for-12, one homer) and Anderson (2-for-6, one homer).
The Brewers will counter with right-hander Corbin Burnes (0-1, 9.64), and the 2021 NL Cy Young Award winner is off to a slow start
Burnes has allowed 10 runs and 11 hits in 9 1/3 innings. He has walked five and struck out just six.
Burnes, 28, led the NL in strikeouts (243) last season and was third with 234 in 2021.
Against Arizona, Burnes is 1-0 with a 2.87 ERA in three career starts. He has struck out 23 in 15 2/3 innings.
Evan Longoria is 1-for-4 with a homer against Burnes. Walker is just 1-for-7 and Josh Rojas is 1-for-6.
--Field Level Media