The Arizona Diamondbacks have done away with manager Kirk Gibson and bench coach Alan Trammel, just a few weeks after canning general manager Kevin Towers. And so ends the Era Of Grit in Arizona.
If there's one thing the Diamondbacks became known for under the stewardship of Gibson and Towers, it was turning a team that won 94 games in 2011 into a mediocre-to-bad team that valued toughness and "playing the right way" over everything else.
Towers did his part by trading away Justin Upton for a sack of rocks before the 2013 season because he didn't fit a particular "mold"—Upton's put up consecutive 3-plus WAR seasons in Atlanta—and doing weird shit like going on the radio and complaining about how his pitchers weren't throwing at guys enough.
G/O Media may get a commission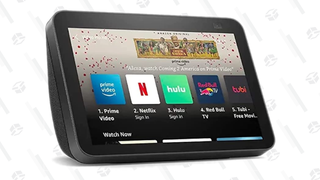 Gibson brought his brand of grit by talking tough about no-good cheat Ryan Braun, congratulating his pitcher for throwing at Braun before suffering hilarious karmic comeuppance, and presumably ordering a fastball into Andrew McCutchen's back for no good reason.
We can't help but fear for the people of Arizona. Without a job, we can only assume that Gibson will spend his days wandering around the state, demanding hustle out of strangers on the street, hard-nosed grinder attitude out of grocery clerks, etc.