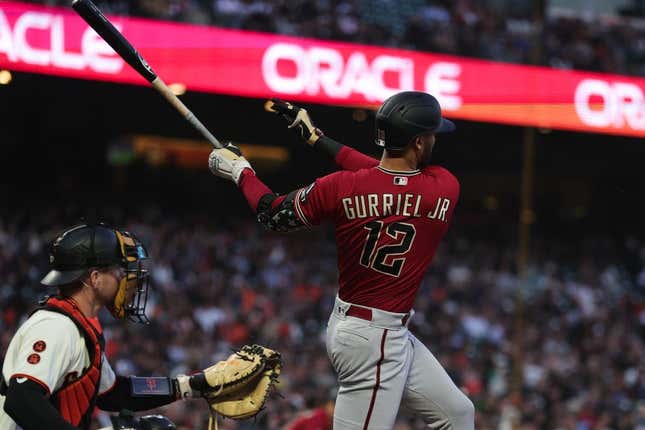 Two teams hoping to be able to call upon reinforcements continue their four-game series on Tuesday when the San Francisco Giants host the Arizona Diamondbacks
How running an NFL team is like running a restaurant | Chef Emeril Lagasse
Ketel Marte doubled home the eventual game-winner for Arizona in a 4-3, 11-inning win on Monday that allowed the visitors to move within one game of San Francisco in their duel for second place in the National League West
The Diamondbacks used two different closers to lock down just their eighth win in 24 games in July, that coming on the same day when they acquired a third closer in a trade
Kevin Ginkel, after blowing a save, got the win and Scott McGough notched the save as each worked one inning that began with a one-run lead. The blown save by Ginkel was his first of the season; the save was McGough's ninth
Chances are both will be seeing earlier action in the future, with the Diamondbacks having acquired Paul Sewald from the Seattle Mariners on Monday
Sewald has 21 saves this season
"He throws lots of strikes and he gets swing-and-miss," Diamondbacks general manager Mike Hazen said of Sewald, who is signed through next season. "Two playoff runs at it instead of one.
Arizona also added to its infield depth in another move, acquiring Jace Peterson from the Oakland Athletics
Whether Sewald is needed in the Tuesday contest could come down to Arizona ace Zac Gallen (11-5, 3.36 ERA), who is set to start. The right-hander is winless in his past three starts, allowing 11 runs and 18 hits in 18 1/3 innings in team losses to the Toronto Blue Jays, Atlanta Braves and St. Louis Cardinals
Gallen pitched a 7-2 home win over the Giants on May 13, allowing both runs in 7 2/3 innings. It improved the 27-year-old's career record against San Francisco to 3-4 with a 3.84 ERA in 11 starts
The Giants spent the day Monday looking for offensive help and believe they got in when they picked up veteran outfielder AJ Pollock from the Seattle Mariners
San Francisco also picked up utility infielder Mark Mathias in the trade, then sent him to Triple-A. The Giants will send a player to be named or cash to Seattle
Pollock joins a team that ranked last in the majors in July in runs (83) and OPS (.632), capped by an 0-for-9 performance with runners in scoring position on Monday
"We've had lots of opportunities to deliver a knockout blow over the course of the last 10 games or so, maybe a bit more," Giants manager Gabe Kapler said. "We've got to do everything we can to come out on the other side of this little skid offensively with runners on base and big moments.
One night after he had to be scratched from a scheduled start because of an upset stomach, Giants right-hander Alex Cobb (6-3, 2.97 ERA) will attempt to go in the rematch. Cobb is coming off one of his best outings of the season, having shut out the A's on three hits over six innings in a no-decision on July 25
The 35-year-old veteran will be facing the Diamondbacks for the second time this season, having shut them out on seven hits for 7 1/3 innings in a 6-2 road win on May 11. He is 3-2 with a 4.93 in seven career starts against Arizona
--Field Level Medi