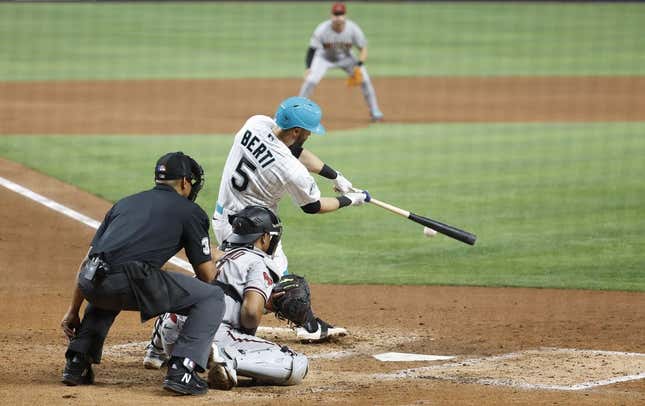 The Arizona Diamondbacks entered this weekend's three-game series in Miami as a confident team, leading the National League West as one of baseball's early surprises
Bass' ERA stinks, but not compared to who he is off the mound | Worst of the Week Countdown
However, the Miami Marlins -- who beat the Diamondbacks 5-1 on Friday -- are confident, too
"We are resilient," the Marlins' Jon Berti said of his squad, which has won three consecutive games. "Up and down our lineup, we've done a great job the past several days, and the pitching has been great, too
"Anytime you have that combination, it's going to be a great day."
Saturday's pitching matchup will feature Miami left-hander Braxton Garrett (0-0, 4.70 ERA) and Arizona right-hander Ryne Nelson (1-0, 4.91).
Diamondbacks manager Torey Lovullo said he is confident in his team against southpaws
"We've got the ability to counter-punch left-handed pitching," Lovullo said.
That may be so, but the Diamondbacks couldn't handle Marlins lefty Trevor Rogers on Friday. Rogers, who had lost his previous seven decisions, allowed just one run in six-plus innings to beat Arizona and end his drought
Now it's up to Garrett, who is 5-10 with a 4.13 ERA in 29 career games, including 27 starts. Garrett, a 25-year old Alabama native, was Miami's first-round pick in 2016. He has never faced Arizona.
Nelson, also 25, was born in Nevada and was drafted out of the University of Oregon in 2019. Arizona selected him in the second round.
He made his major league debut last year, going 1-1 with a 1.47 ERA in three starts.
Nelson, who has never faced the Marlins, hasn't been as sharp this year, allowing three runs in each of his two outings, against the San Diego Padres and the Los Angeles Dodgers
It's uncertain if he will have to content with Miami star second baseman Luis Arraez, who sat out on Friday to get a rest. Arraez leads the majors with a .500 batting average (23-for-46).
In addition, Marlins right fielder Jorge Soler left Friday's game due to lower-back tightness
"He said he could (play)," Marlins manager Skip Schumaker said of Soler, "but I don't want this to be a two-week (injury-list) stint.
With Soler hurting, it's likely that Marlins center fielder Jazz Chisholm Jr. will return to the lineup Saturday after resting on Friday. He was a first-time All-Star last year, posting 14 homers, 12 steals and an .860 OPS in just 60 games before sustaining a season-ending back injury
This season, Chisholm is off to a slow start. In 13 games, he has two homers, three steals and a .705 OPS.
On the bright side, Miami's bullpen has been strong with A.J. Puk (1.50 ERA) and Dylan Floro (0.00). Huascar Brazoban (4.82) contributed on Friday, too.
All three pitchers were used in the series-opening win, with Brazoban getting the three biggest outs. He inherited a two-on, no-out jam in the seventh and allowed just one runner to score.
Schumaker is high on Brazoban, a 33-year-old Dominican who made his major league debut last year.
"We needed someone dirty to get big outs," Schumaker said of Brazoban and his pitch repertoire. "Watching his stuff, you have to trust your eyes. He's not just a long man."
Of Miami's 14 games this year, Brazoban and Floro have been used six times each. Puk has been used five times.
"I don't want to kill 'em," Schumaker said when asked about the dangers of overusing his top relievers, "but when there are games to be won, you win them."
--Field Level Media