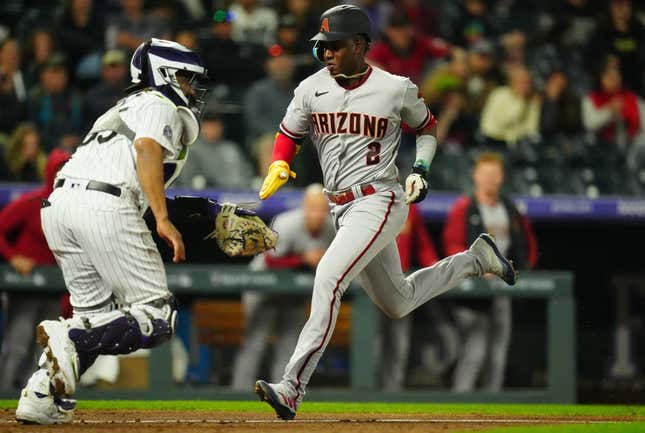 Two sports worlds are colliding a few miles apart in downtown Denver.
The NBA's Phoenix Suns and host Denver Nuggets begin their Western Conference semifinal series on Saturday night. That contest will start approximately 20 minutes after the Arizona Diamondbacks and Colorado Rockies begin the second game of their three-game series
Does Jimmy Butler have the best NBA Finals origin story? | Agree to Disagree
A few Suns players took in Friday's opener between Arizona and Colorado, with the Diamondbacks recording a 9-1 victory. The Suns won't be on hand for the second game of the baseball series when Arizona left-hander Tommy Henry (0-0. 6.23 ERA) faces Noah Davis (0-0, 0.93) in the rookie right-hander's home debut for the Rockies
"We're trying to support one another the best way we can," Diamondbacks manager Torey Lovullo said
Henry, who will be making his 10th career start and second against Colorado, has experience at Coors Field. He picked up the win after allowing three runs on five hits in 5 1/3 innings against the Rockies on Aug. 14, 2022
It is an accomplishment for any pitcher to fare well competing in the thinner air, and it helps when a team has a day off before taking the field. Arizona was idle Thursday after a three-game home series against Kansas City and then has another day off when it leaves after Sunday's getaway game.
"This is a very tough environment to come into and perform," Lovullo said. "We've done a lot of research in this area and you come here to this altitude, it takes its toll on the body. It's not necessarily today, it might be tomorrow. It's definitely the day you get back from the road trip and back down to sea level. So thankfully, we have a day off [Monday]."
The Rockies have the same scheduled days off, and that might help the rotation with starter German Marquez going on the 15-day injured list with right elbow inflammation. He told reporters Friday he might miss six weeks, although his worst fear is he will need Tommy John surgery
It is the second time he has landed on the injured list this season, and it opened an opportunity for Davis. He tossed five scoreless innings in his major league debut at Seattle on April 16, and he allowed just one earned run in 4 2/3 innings his second start, at Philadelphia on April 21.
His performance in his first two outings has provided some hope to a struggling rotation. Jose Urena was designated for assignment this week and Austin Gomber has struggled out of the 2023 gate.
Colorado manager Bud Black has been pleased with the early returns with Davis.
"He looked under control in Seattle and he looked under control in Philadelphia," Black said. "When things went against him in Philadelphia, there were some things that didn't go his way and he hung in there. He left that game ahead 3-2. In the brief major league games he's pitched he's looked under control and looked as though he was handling situations. So that's a great start."
Davis will carry the burden for a struggling team. The Rockies have lost six straight at home and 13 of their past 16 overall
--Field Level Media