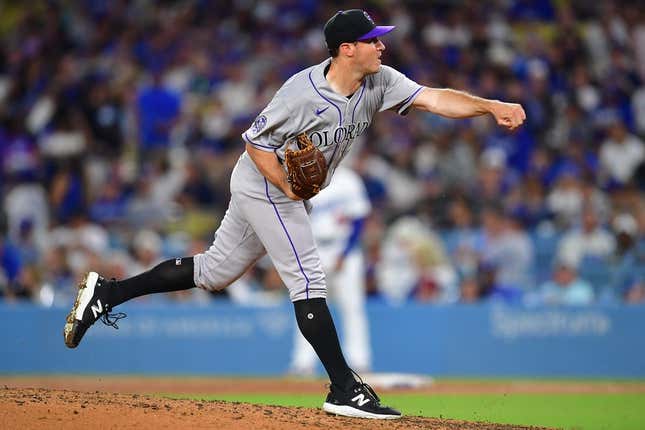 The Arizona Diamondbacks carried a little momentum out of Phoenix on Sunday and were poised to build on that against the Colorado Rockies on Monday night in Denver.
How running an NFL team is like running a restaurant | Chef Emeril Lagasse
Arizona led by two after seven innings, but its luck ran dry when the Rockies rallied to steal a 6-4 win in the opener of a three-game series.
The Diamondbacks will try to bounce back on Tuesday in the middle game of the series. Joe Mantiply (1-1, 7.20 ERA), who gave up three runs on three hits without retiring a batter while taking the loss in relief on Monday, will serve as Arizona's opener on Tuesday.
Ty Blach (1-1, 4.22 ERA) will get the nod for Colorado, which snapped a five-game skid thanks to the Monday rally.
The Diamondbacks were two innings away from their third straight win when the bullpen collapsed. Their strong start to the season is gone, and they have shaken up their roster over the past few days in the hopes of rediscovering the formula that saw them hold or share first place in the National League West from June 1 through the All-Star break.
On Monday, Arizona recalled outfielder Kyle Lewis, who was hitting .434 in Triple-A Reno over the past month.
The move came at the expense of some speed with Jake McCarthy being sent down to Reno.
"Kyle Lewis just was forcing things by the success he was having in Reno," Diamondbacks manager Torey Lovullo said. "It was just a quality at-bat, controlling the zone, impacting the baseball. And we've told guys, when you go down, if you go and do your job, we're going to try and do our absolute best to find a spot for you."
The Rockies have been trending younger over the last few weeks but got a jolt of experience on Monday with the return of veteran Charlie Blackmon, who had been on the injured list since June 11. Blackmon, the longest-tenured player on Colorado's roster, sustained a fractured right hand when he was hit with a pitch in Kansas City on June 3.
He made an immediate impact on Monday, getting two hits and starting the winning rally in the eighth inning.
Blackmon enjoyed his rehab assignment with Triple-A Albuquerque before being activated for the opener against Arizona.
"It's good to see a lot of my guys — some of the guys I haven't seen since spring training," he said. "It was good to go back there and play — I played a lot of minor league baseball — and mostly get back to my roots, play when it's not as glamorous, just because you like playing."
Blach will be making his fifth straight start and 12th appearance for the Rockies. A Denver native who played high school ball in Aurora, Colo., Blach has done his part in shoring up a rotation hit hard by injuries.
The Rockies have lost Ryan Feltner, German Marquez, Antonio Senzatela and Chase Anderson at points throughout the season, and only Feltner and Anderson have a chance of returning this year.
Blach pitched well on the road against the Los Angeles Dodgers on Thursday, allowing one run in six-plus innings during a no-decision. He has faced Arizona 14 times (two starts) in his career, going 0-2 with a 3.14 ERA in 28 2/3 innings.
Mantiply is 0-1 with a 10.22 ERA in his past 10 appearances (12 1/3 innings). In his career against the Rockies, he is 0-1 with a 4.50 ERA in 16 outings, all in relief.
—Field Level Media