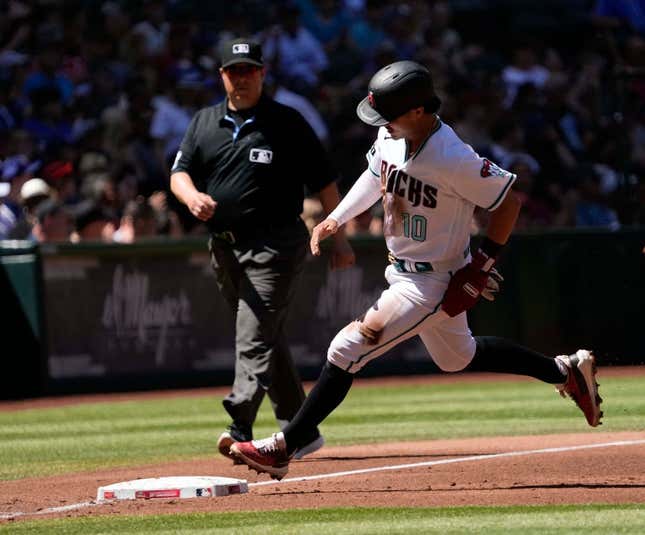 The Arizona Diamondbacks are in a hurry -- and the strategy is working
Arizona, which has an early lead in the National League West with an 8-5 record, visits the Miami Marlins on Friday for the start of a three-game series
Does Jimmy Butler have the best NBA Finals origin story? | Agree to Disagree
The Diamondbacks have won five of their past six games, most recently a 7-3 home win over the Milwaukee Brewers on Wednesday
"I don't want to say we will play like this the rest of the year," Arizona third baseman Josh Rojas said. "It's a game of ups and downs.
"You just have to fight and work to be a consistent team."
The Diamondbacks are relying on aggressive baserunning. They have stolen 17 bases this season and have been caught just once. They also lead the major leagues in "extra bases taken percentage," successfully stretching their hits an extra base 61 percent of the time, according to Baseball Reference
Besides flashing speed, offensively the D-Backs are led by shortstop Geraldo Perdomo (1.218 OPS), Evan Longoria (1.106 OPS) and Rojas (1.006 OPS).
The Diamondbacks on Friday will start lefty Madison Bumgarner, who has struggled so far in two starts (0-1, 7.27 ERA)
Bumgarner, 33, has had a distinguished career -- a four-time All-Star, a two-time World Series champion and the NLCS and World Series MVP in 2014. However, he hasn't had a winning record in a single season since 2016. Since then, he is just 34-55.
In 14 career starts against the Marlins, Bumgarner is 4-4 with a 3.78 ERA. In eight starts at Miami, he is 2-2 with a 4.35 ERA
Miami will counter with Trevor Rogers (0-2, 6.00). The 25-year-old lefty is 12-23 with a 4.19 ERA in 57 career starts, but the Marlins believe there is a lot of potential there. They point to Rogers' 2021 season, when he went 7-8 with a 2.64 ERA
However, he is 4-13 since then, making Friday a matchup of two lefties trying to get back on track.
Rogers has faced Arizona just twice, going 1-1 with a 5.23 ERA. At home in 25 career starts, Rogers is 5-12 with a 4.85 ERA.
Offensively for the Marlins, offseason acquisition Luis Arraez has been a revelation at second base. The American League batting champion last year for the Minnesota Twins, Arraez is hitting .500 over his first 13 games with Miami. In the wild-card era, Arraez is just the fifth major-leaguer (with enough at-bats to qualify) to hit .500 or better over his first 13 games
There's a long way to go, but Arraez surely would love to be just the second player in the modern era to win a batting title in both leagues. Only DJ LeMahieu has accomplished the feat.
Arraez is a disciplined hitter, as evidenced by the fact that he has more walks (six) than strikeouts (four) so far this year.
On Tuesday, he became the first player in the Marlins' 31-year history to hit for the cycle. He led the Marlins to win two of three games at the Philadelphia Phillies earlier this week, the second series out of four that the Marlins have won this season
"I think our guys are starting to believe they can play with anybody," Marlins manager Skip Schumaker said. "There are a lot of good guys in (Miami's dugout).
--Field Level Media