The Diamondbacks have been playing in their current ballpark since 1998. Their stadium cost $364 million to build, and Maricopa County picked up $238 million of the tab. Eighteen years later, it is need of some repairs, and the fight over who is going to pay for them has gotten ugly.

The team recently said they needed $65 million for a new paint job and a new scoreboard, among other things. They requested the money from Maricopa County, but the county has largely refused to pay up. The Diamondbacks are locked into their lease with the county for 12 more years, and the stadium will need about $187 million in repairs over that time, according to the Arizona Republic. The county is essentially trying to set a precedent and force the team to pay for their own repairs over the next decade and change.
Both sides appear to be furious with each other, and it has turned personal. The Republic acquired a letter that current Maricopa County Supervisor Andy Kunasek sent to Diamondbacks president Derrick Hall in April, in which he yells at him in all caps, reprimands him for trying to squeeze more money from taxpayers, and calls modern professional baseball "parasitic." When he delivered it, he apparently told team owner Ken Kendrick to go back to "fucking West Virginia."
As Kunasek delivered the letter to the team, he directed a profanity-laced storm at Hall, calling on owner Ken Kendrick to "take your stupid baseball team and get out" and go back to "f—king West Virginia," according to team notes that Kunasek does not dispute.
Part of Kunasek's anger with Hall hinges on the fact that voters never got to have their voices heard on the issue of stadium financing. Their elected officials put them on the hook for a quarter of a billion dollars without giving them the chance to vote, so Kunasek sees Hall's solicitation of funds as disrespectful of the contributions taxpayers were forced to make. Stadium financing has always been a contentious issue in Maricopa County, and back in 1997 when the county passed tax increases to pay for the stadium, opposition to publicly financing the building got so heated that former county supervisor Mary Rose Wilcox got shot for supporting the plan.
The Diamondbacks have the leverage of Phoenix taking over for the county as the stadium's landlord. This arrangement would theoretically give the team access to municipal bonds, and allow them to pay cheaper rent. In exchange, the team would pay for their own repairs, but get greater control over stadium operations.

G/O Media may get a commission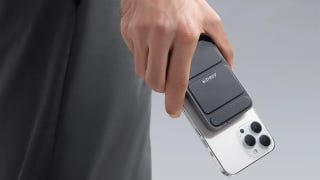 15% off
15% off Anker Top Ten Products
Take charge
Treat yourself to a portable power bank, a magnetic wireless battery for iPhones, or even a solar generator. There is a reason these are in the top ten. For instance, the Anker 747 Power Bank is a 4-in-1 charger utilizing USB-A and USB-C to be capable of charging up to four devices at once. Great to take with you when traveling and in need of keeping your phone, laptop, and even Nintendo Switch powered on.
A Maricopa County spokesman told the Republic that they felt it was important to protect the initial investment:
"The county is going to continue to protect the taxpayer and the taxpayer's $238 million investment in Chase Field," county spokesman Fields Moseley said. "We continue to remain open to discussions with the Diamondbacks ... about where the money needs to come from and how much money the stadium district can contribute with respect to the original facility agreement with the team."
Their Diamondbacks have threatened to sue the county before, and a spokesman told the Republic that the team was disappointed in "the county's abdication of its responsibility" to pay for repairs.
Based on Kunasek's fiery rhetoric, it doesn't appear that he plans on backing down. However, he said that he will not run for re-election this November, so the resolution to this impasse could come down to the results of the election. Voters might not have gotten a chance to vote on the construction of the stadium, but they will get a chance to pick the politician in charge of its immediate future.