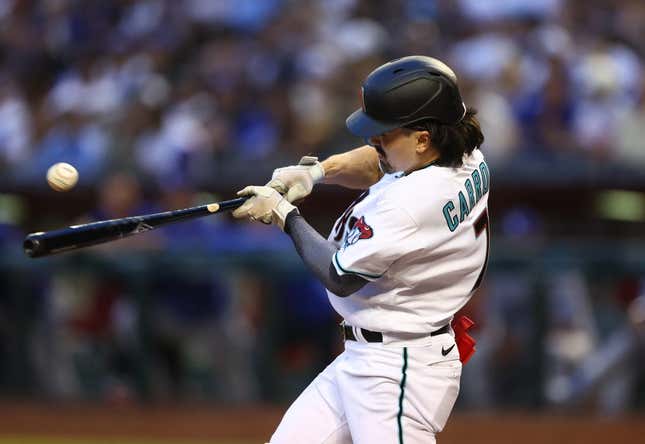 The Arizona Diamondbacks are tired of being pushed around by the Los Angeles Dodgers, and they are displaying it early this season
'Soccer fandom is full of gatekeepers' says Ted Lasso actor Brendan Hunt
The recent pushovers are looking to make it three victories during a four-game series with the Dodgers when the two clubs close the set on Sunday in Phoenix
The Diamondbacks notched season highs for runs and hits (17) during Saturday's 12-8 victory while improving to 4-3 against Los Angeles this season
Last year, Arizona went 5-14 against their National League West rival and was 10-38 in a three-season span entering the current campaign.
Eight of Saturday's hits went for extra bases, including two-run homers from Geraldo Perdomo and Ketel Marte. Lourdes Gurriel Jr. and Alek Thomas each had a triple.
Thomas entered the game in an 0-for-16 season funk and matched his career high of four hits. He scored twice and drove in one run.
"It was a good feeling to get that first one out of the way, ended up scoring, then good things happened," Thomas said afterward. "It was a great team win. I feel like I've been having good at-bats and squaring the ball up, it's just the results weren't there."
Gurriel Jr. had three hits and three RBIs, Marte had three hits and two RBIs, and Josh Rojas had three hits and one RBI as the Diamondbacks beat the Dodgers for the second straight night. Perdomo had three RBIs and two hits while Corbin Carroll stole two bases and scored twice
"It was a pretty complete effort today," Diamondbacks manager Torey Lovullo said. "We did a lot of little things really, really well. We continue to have an all-field approach and we're being very stubborn at the plate.
The outlook wasn't as good for the Dodgers
Manager Dave Roberts sees eight runs and 11 hits and envisions a victory. His club had seven extra-bases hits, including homers by James Outman and Jason Heyward.
But starter Noah Syndergaard was pummeled for six runs and eight hits over four innings, and three relievers combined to allow six runs and nine hits over four innings.
"I thought we swung the bats well, and when you score seven, eight runs, you expect to win a ballgame," Roberts said. "But it seemed like every guy we were running out there, we couldn't put up a zero. It doesn't happen very often with our ballclub, but you've got to give those guys credit."
Freddie Freeman went 4-for-5 with two doubles for the Dodgers to raise his batting average to .429
Freeman said that it was too early to raise concerns.
"You can't really pinpoint anything right now," Freeman said. "They just scored more runs than us tonight. That's going to happen, but take a lot of positives out of it, go out (Sunday) and try to salvage a series."
A pair of right-handers will clash in the series finale -- Michael Grove for the Dodgers and Ryne Nelson for Arizona
Grove (0-0, 6.75 ERA) went four innings in his first start of the season last Monday when he received a no-decision against the Colorado Rockies. The 26-year-old gave up three runs and two hits.
Grove made two starts against Arizona last season and went 0-0 with a 4.50 ERA. He struck out 11 in 10 innings.
Grove struggled with Carroll (3-for-5, one homer) and also served up a long ball to Christian Walker.
Nelson (0-0, 5.40) made his first start of the season on Monday against the San Diego Padres. The 25-year-old gave up three runs and six hits over five innings and received a no-decision.
Nelson had a no-decision while pitching six shutout innings on Sept. 12 of last season in his lone career outing against Los Angeles. He gave up two hits and two walks while recording six strikeouts.
--Field Level Media