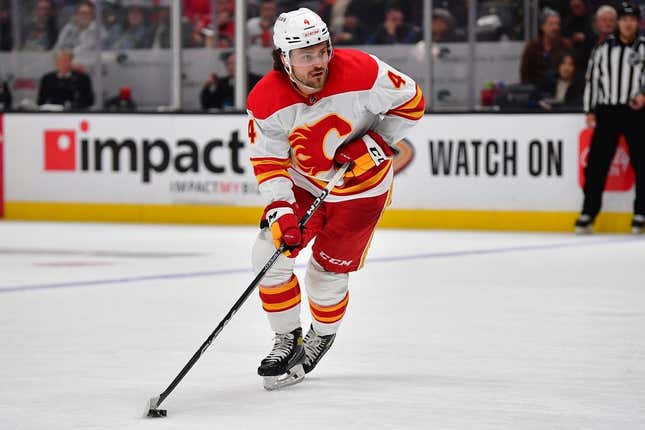 When the season started, the Calgary Flames envisioned Wednesday's regular-season finale against the San Jose Sharks as a final tune-up for the postseason
Bass' ERA stinks, but not compared to who he is off the mound | Worst of the Week Countdown
Instead, when the Flames play host to the Sharks, it will be a meaningless affair between two clubs that failed to the make the Stanley Cup playoffs
The fact the Sharks (22-42-16, 60 points) were a non-playoff team for the fourth consecutive season was no surprise. The rebuilding squad currently sits 29th overall. But the Flames (37-27-17, 91 points) were last season's Pacific Division champions and, despite losing a pair of key players in Johnny Gaudreau and Matthew Tkachuk, were supposed to be contenders again
Instead, they were officially eliminated from playoff contention when they lost 3-2 in a shootout in Monday's game against the Nashville Predators.
"It's an empty feeling," Calgary forward Mikael Backlund said. "We pushed for a long time and it's a long season and we fought all the way until the end. It's an empty, hard feeling."
Calgary, which lost two consecutive shootout contests to end its playoff hopes, has been unable to come through in close games all season. The Flames have a 7-17 record in extra-time games and have lost 30 one-goal affairs, plus a handful in which they surrendered late empty-net goals
Now, they're facing another offseason of turnover, with general manager Brad Treliving still without a contract beyond this season and on-ice changes expected.
"This year, it feels like, looking around this room, we had the squad to (make the postseason), and that probably makes it more frustrating," Calgary defenseman Rasmus Andersson said. "We didn't do it."
San Jose, which will finish its season Thursday in Edmonton, is coming off a 6-2 loss to the Winnipeg Jets on Monday and is riding a four-game skid.
It has been a long, tough and disappointing season for the Sharks, but they at least have one positive to enjoy. Erik Karlsson scored two goals in the Winnipeg loss and became just the sixth defenseman in NHL history to reach 100 points, and the first since Brian Leetch of the New York Rangers in the 1991-92 campaign
"I think I'm physically and mentally in a good spot in my life, and I've just been trying to keep it going day by day and keep the motivation going as best as possible," said Karlsson, who has recorded 25 goals and 75 assists. "You know, it's been tough as of late, but (I've) managed a way to get it done and I'm happy about that."
The other defensemen to reach the century mark are Bobby Orr (six times), Paul Coffey (five times), Al MacInnis and Denis Potvin, which puts Karlsson in rare air.
"It's just been an incredible year for (Karlsson) up to this point," Sharks coach David Quinn said. "Two games to go, to get 100 points, it's pretty special. I have been saying this for a while, he's had a Norris Trophy-type year. To have the points he's had five-on-five is really unique because of the way it's happened and the situation we're in. We're in a situation where we're not a playoff team and we're trying young players. ... I just wish we could have done a little bit more winning for him.
--Field Level Media