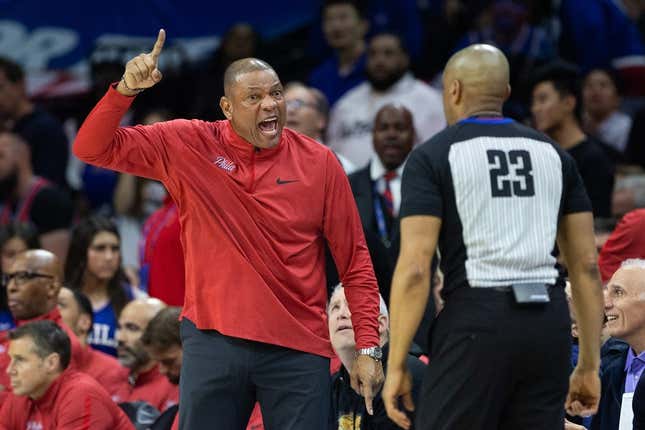 Philadelphia 76ers coach Doc Rivers defended Joel Embiid's kick at a Brooklyn Nets player, saying the NBA needs to do something to address players trying to goad stars into retaliating
'Soccer fandom is full of gatekeepers' says Ted Lasso actor Brendan Hunt
Embiid received a flagrant 1 foul during Thursday's Game 3 win after kicking up near the groin area of Nets center Nic Claxton, who was standing over Embiid after making an alley-oop dunk over him. Claxton received a technical foul.
Rivers also said he didn't believe Golden State Warriors forward Draymond Green should have been suspended for stepping on the chest of Domantas Sabonis in the fourth quarter of Game 2 against the Sacramento Kings.
"I'm going to say this, and I probably shouldn't: I didn't think Draymond should have been suspended," Rivers said Friday, per ESPN. "And I think the league is setting up a very dangerous precedent right now, and this is not me campaigning, and I'm dead serious. ... If we're going to start punishing the retaliators, and not the instigators, then we've got a problem in this league."
After a lengthy review of the incident between Embiid and Claxton, referees ultimately issued Embiid a flagrant 1 foul for the kick. A flagrant 2 would have earned and an automatic ejection, and in the playoffs, if a player accumulates four flagrant foul points they receive an automatic one-game suspension.
"I've been a player, and this is a players' league, and I am 100 percent pro-player," Rivers said. "I think players should play in games. We talk all year about fans not being happy about guys not playing, and now we're taking guys out of the playoffs. I don't believe in the past stuff either. They take away all your techs at the end of the season, right? And you start over. Then you should start over with that stuff, too. ... Draymond Green stepped on a guy's chest because he was holding his foot. The instigator was holding his foot."
Rivers spoke about the need to protect players from being targeted by opponents looking to instigate a reaction.
"If I'm at a park, and I'm going to make this point, and you stood over me? We're going to have a problem. I didn't grow up in the sticks-and-stones era, I grew up in the break-the-bones era, so it's a little different," Rivers said. "Having said that, these guys know they can do it, because most likely you can't do anything. I'm not picking on Claxton, but I don't think at a park he's standing over Joel. But when you've got the ref and everybody else there, you know nothing is going to happen."
The 76ers are going for a sweep of the Nets in the best-of-seven first-round series with Game 4 on Saturday afternoon in New York, but they will be without Embiid after an MRI revealed he suffered a sprained right knee, ESPN reported Friday evening
--Field Level Media