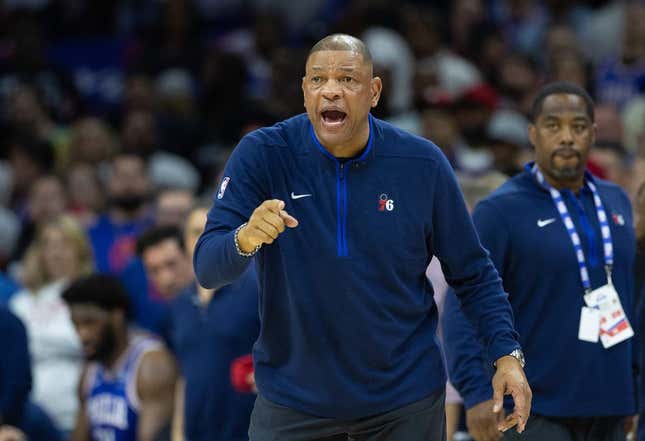 On the heels of another playoff letdown, Doc Rivers said Sunday he believes he'll return as coach of the Philadelphia 76ers, while admitting that it's anyone's guess who might be the next NBA coach to be fired
'Soccer fandom is full of gatekeepers' says Ted Lasso actor Brendan Hunt
After a lopsided 112-88 loss in Game 7 of the Eastern Conference semifinals ended the 76ers' season, Rivers was asked if he was "planning to be" their coach in 2023-24
"Yeah, I think I've got two years left (on my contract)," Rivers said.
But a follow-up question pointed out the recent run of teams parting ways with high-profile coaches despite more recent success than Philadelphia can say it's had.
The Phoenix Suns fired Monty Williams on Saturday two years after they were in the NBA Finals. The Toronto Raptors let go of Nick Nurse, who guided them to the title in 2019, and the Milwaukee Bucks fired Mike Budenholzer just two seasons after they won the title together.
"Yeah, no one's safe in our business, and I get that," Rivers said.
Rivers is best known for coaching the 2007-08 Celtics team featuring Kevin Garnett, Paul Pierce and Ray Allen that won the NBA title. The Celtics returned to the Finals two years later but lost in seven games to the Los Angeles Lakers; they also made the 2012 Eastern Conference Finals.
Rivers has not coached a team past the second round of the playoffs since then.
The Sixers have flamed out in the second round in each of the three seasons since Rivers took over in 2020-21. They were the No. 1 seed in the Eastern Conference in 2020-21 but fell to the Atlanta Hawks in seven games in the semifinals. Last season, they dropped the semifinal series to the Miami Heat in six games.
Against Boston, Philadelphia held a 3-2 series lead but lost 95-86 at home in Game 6 before Sunday's disaster.
In 24 seasons as a head coach for the Orlando Magic (1999-04), Celtics (2004-13), Los Angeles Clippers (2013-20) and 76ers, Rivers has a 1,097-763 career record in the regular season and a 111-104 mark in the playoffs. He has not coached a sub-.500 team since 2006-07
--Field Level Media