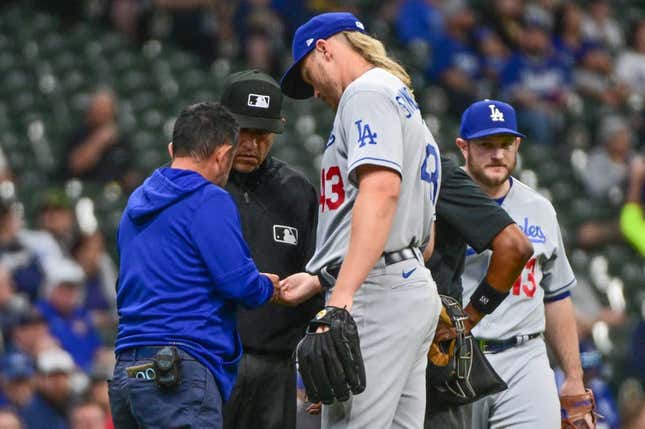 With injuries depleting the starting rotation and innings piling up on their bullpen, the Los Angeles Dodgers need to get starting pitcher Noah Syndergaard right
Aaron Rodgers should go full Joe Namath | Comedian Bert Kreischer
Syndergaard (1-3, 5.94 ERA) has been limited to a total of five innings in his last two starts because of a nagging finger blister. The Dodgers would like the right-hander to work deeper into Saturday's road game against the St. Louis Cardinals
Dodgers manager Dave Roberts pulled Syndergaard after four innings in his most recent start -- a 9-8, 12-inning victory over the Minnesota Twins on Monday
"With Noah, just kind of trying to bank health," Roberts said, explaining his decision to remove Syndergaard after just 59 pitches. "So we'll take a look at it, see how he came out of it, and try not to push it too much. He only threw 20 pitches in two weeks, so I felt getting to 60 pitches, his stuff started to curtail and wasn't as sharp.
"I think it was just layering everything: What he's thrown the last two weeks; what he gave us; and what his stuff, with my eyes, was starting to do. There were some hard outs the last time through, so we're still trying to win a baseball game, too."
Syndergaard came out of the Twins' game without any further damage to the finger, so he remained on track to start Saturday vs. St. Louis.
His only victory this season came against the Cardinals on April 30. He allowed three runs on eight hits in 5 1/3 innings as the Dodgers won 6-3
Syndergaard is 3-3 with a 4.22 ERA in seven career starts against the Cardinals
St. Louis won the opener of this four-game series 16-8 Thursday night, and the Dodgers responded with a 5-0 victory Friday for their eighth victory in their last 10 games
The Cardinals will start Miles Mikolas (2-1, 4.91) on Saturday. The right-hander allowed 17 runs in 14 1/3 innings in his first three starts this season and just 10 earned runs in 33 1/3 innings in his last six starts
Mikolas' return to 2022 form is one factor in the Cardinals' turnaround from their disastrous 10-24 start. The Cardinals won nine of 11 games before losing Friday
"Despite our bad start, the talent is there," Mikolas told the St. Louis Post-Dispatch. "We're a very good baseball team. A good road trip helps, getting some big wins especially coming back late in games and showing that we have what it takes when the game is on the line."
Mikolas is 1-3 with a 4.35 ERA in six career appearances against the Dodgers, including three starts
The Cardinals could get infielder/outfielder Tommy Edman back in the lineup Saturday. He left Thursday's game with lower abdominal pain after an outfield collision with teammate Lars Noorbaar and was limited to pinch-hitting duty in Friday's game. He struck out swinging in the eighth inning
The Dodgers addressed their bullpen strain in mid-series by promoting Tyler Cyr from Triple-A Oklahoma City and demoting Andre Jackson. Cyr closed out the ninth inning Friday
--Field Level Media