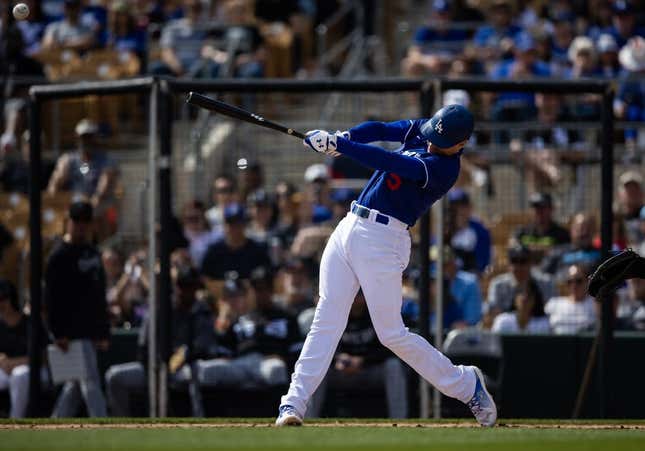 After wrapping up a seven-game road trip with a signature win, the Los Angeles Dodgers will return home on Friday to begin a three-game series against the Chicago Cubs
Are the Oakland A's a failed state? | Agree to Disagree
Los Angeles moved to 7-6 on the season after taking two of three from the San Francisco Giants. Max Muncy hit a three-run homer and a solo shot on Wednesday as the Dodgers rallied from an early 3-0 deficit to win 10-5
Freddie Freeman highlighted the comeback by fouling off nine straight pitches during a 15-pitch, bases-loaded walk in the middle of the Dodgers' five-run sixth inning
The victory provided a spark for Los Angeles, which had lost four of its previous five games.
"Any time you can have a comeback win on the road I think is important, having guys show resolve," Dodgers starting pitcher Clayton Kershaw said. "We're all just trying to find that rhythm of what our team looks like, consistency, because we know it's there, the ability to win games and do that. We've just got to be more consistent and I think tonight was a really good step for us.
Los Angeles will send Noah Syndergaard (0-1, 6.30 ERA) to the mound on Friday. The right-hander is looking to bounce back after allowing six runs over four innings in a 12-8 loss to the Arizona Diamondbacks last Saturday.
"Just poor execution with my pitches," Syndergaard said. "They capitalized on just about every single one of my mistakes, and it was difficult to find a rhythm. Just a super disappointing outing."
Eric Hosmer is 2-for-13 against Syndergaard, 30, who split last season between the Los Angeles Angels and Philadelphia Phillies. Syndergaard owns a 1-2 record and 5.67 ERA in five career starts against the Cubs
Chicago enters the series after taking two of three from the Seattle Mariners. Left fielder Ian Happ has reached safely in 10 of his first 11 games for the Cubs, who are beginning a six-game road trip
Happ signed a three-year, $61 million contract extension with Chicago on Wednesday.
"This is the place I wanted to be," Happ said. "I've been pretty clear about that for a long time. Just the fact that I wanted to wear this uniform for as long as I can made it pretty easy."
Justin Steele (1-0, 0.75) is set to start the series opener for the Cubs. The left-hander tossed six innings of one-run ball and gave up four hits in a 10-3 victory over the Texas Rangers last Saturday
Steele, 27, is 2-1 with a 0.92 ERA in his last nine starts dating back to July 22, 2022. He has allowed one or fewer earned runs in eight of those outings.
"I think he's settled into who he was last year, and we're seeing a really good version," Cubs manager David Ross said
Steele has gone 1-1 with a 3.60 ERA in two career games (one start) against the Dodgers
The Cubs expect to have shortstop Dansby Swanson back in the lineup Friday after missing one game due to a combination of exhaustion and cramping/tightness in his left side. Swanson is dealing with an off-field situation in which his wife, soccer star Mallory Swanson, underwent major knee surgery after being injured in a match on Saturday
Chicago is also optimistic that right fielder Seiya Suzuki (left oblique strain) will rejoin the team during this weekend's series. Suzuki has been on the injured list all season after suffering the injury during spring training.
--Field Level Media