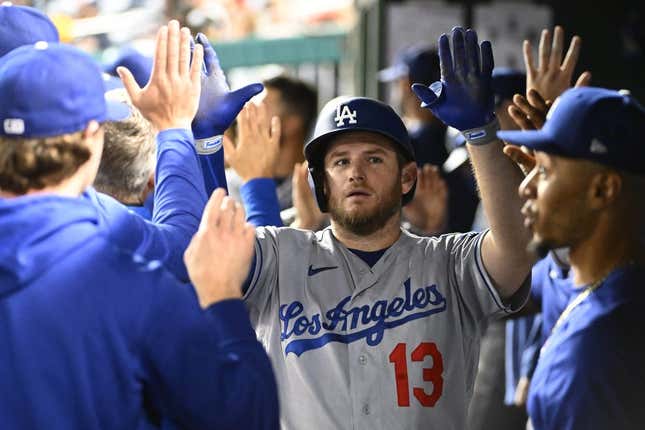 The Los Angeles Dodgers and Washington Nationals might be tiring of each after this weekend.
Is Texas or Florida State a bigger national title contender? | Agree to Disagree
The teams have spent lots of time at the ballpark in Washington, D.C., where they will wrap up a three-game series Sunday afternoon. And it's almost certain that they won't be very well-rested.
The Dodgers and Nationals played Friday night in a game that involved a long seventh-inning rain delay, resuming after 11 p.m. Then Saturday's game was on hold for more than four hours because of weather issues — and then lasted 11 innings.
So far, it's a split, with the Dodgers (86-65) winning Friday and the Nationals (64-78) prevailing Saturday.
"I think we did a really good job of not letting circumstances affect how we prepare and go about playing a baseball game," Dodgers manager Dave Roberts said. "I thought there were a lot of good things — big at-bats, some defensive plays, some pitches that were made."
Washington has won just twice in eight games in the homestand, which will conclude with this matchup.
The Nationals still covet their successes.
"I got an opportunity to do something cool, so it was a blessing to be a part of that," Michael Chavis said.
Chavis, an infielder who entered the game as a pinch runner in the ninth inning, scored the winning run Saturday night on a wild pitch in the 11th. This came following some strong defensive plays by the Nationals, who seemed unfazed by the long delay.
"Everybody was showing out," Chavis said.
For the Dodgers, a win on Sunday would give the National League West leaders their first series victory in their past three series. They dropped three of four games at home to the Atlanta Braves and then went to Miami, falling in two of three games to the Marlins.
Right-hander Trevor Williams (6-9, 5.21 ERA) will start for the Nationals on Sunday. He'll try to make amends for his most recent start, which came Sept. 2 when he gave up nine runs (eight earned) in four innings in a loss to the Marlins.
"When he's down (in the zone), he's pretty effective," Nationals manager Dave Martinez said. "Everything he plays with is down: changeups, sliders, breaking balls. When he gets the ball up is when he gets in trouble."
Giving up home runs has been troublesome for Williams, who has surrendered 33 this year.
"I'm learning again on the fly what works best for my body and how to prepare my body every five days to do this," he said. "I'm thankful that my body has held up, and I know there's still work to be done."
Martinez said there's reason to appreciate the workload that Williams has endured. He has thrown 134 2/3 innings, his highest total since 2019 with the Pittsburgh Pirates.
"This is obviously a lot for him. We've got to try to manage that as well with him," Martinez said. "Hopefully, he can bounce back for us in his next start, but we've got to keep an eye on him as well. I want him to be ready to go again next year."
Williams had a different kind of misery in a May 29 loss at Los Angeles as he gave up six unearned runs in five innings. In seven all-time outings (six starts) against the Dodgers, he has never won. He's 0-2 with a 4.78 ERA across 32 innings.
Roberts has not named a starting pitcher for Los Angeles.
—Field Level Media