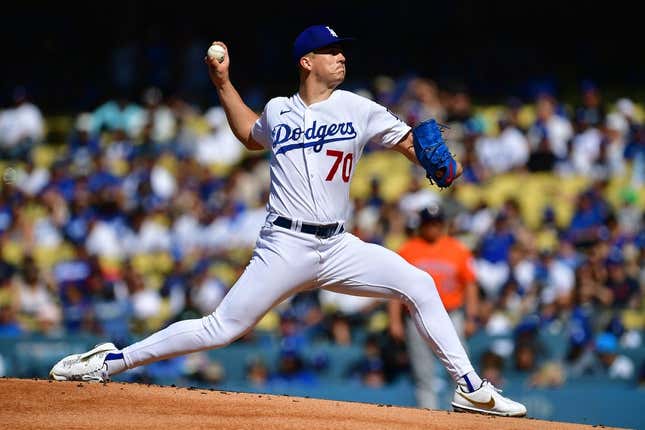 After a stellar start to his big-league career, Los Angeles Dodgers right-hander Bobby Miller is getting his first taste of adversity in the majors
Is Texas or Florida State a bigger national title contender? | Agree to Disagree
Miller will look to break out of a modest rut on Friday night when the Dodgers open a three-game series against the host Kansas City Royals
Since going 3-0 with a 0.78 ERA through his first four outings this season, things have taken a turn for the worst for Miller (3-1, 4.13 ERA), who has surrendered 13 runs over his past two outings.
In his most recent start, he gave up six runs on 10 hits in four innings against the Houston Astros on Saturday. He walked three and fanned three.
A feverish comeback by the Dodgers prevented Miller from taking the loss, though, and Los Angeles manager Dave Roberts knows that getting roughed up is simply part of the 24-year-old's development
"He's still a young major league pitcher, so these are things you don't get better at unless you keep getting experience with," Roberts said after the game. "He's going to be better for it, and I think there's still a lot of good to take away from this outing. He'll learn from it."
Friday's game will mark Miller's first career appearance against the Royals
Miller won't be the only young pitcher with something to prove in the series opener, as right-hander Alec Marsh is set to make his major league debut for Kansas City. Jordan Lyles was scheduled to start before being scratched due to an illness.
In 14 starts between Double-A Northwest Arkansas and Triple-A Omaha this season, Marsh went 5-3 with a 4.62 ERA. He struck out 75 across 62 1/3 innings.
The Royals will see if the momentum they picked up from Thursday's victory over the Cleveland Guardians carries over to Marsh's debut. Kansas City erased a 2-0 deficit in the eighth inning to eventually force extras, and Freddy Fermin's two-run, walk-off double in the bottom of the 10th allowed the Royals to steal a 4-3 win
"Freddy's had a knack for some big hits in big moments for us, right, but that probably tops them all," Kansas City manager Matt Quatraro said. "That was an incredible at-bat. ... That just takes a lot of -- it takes a lot of belief in yourself. It takes a lot of drive to just want to get it done."
Fermin has been rolling over his past six games, going 9-for-14 (.643) with one home run, eight RBIs and three runs.
Aside from Fermin's contributions, the Royals have struggled as a team, winning just four of their past 11 games to fall to 6-19 in June
It's been a different story for the Dodgers, who have scored at least five runs in each of the past five games. Los Angeles has won six of its past eight, including a 14-3 drubbing of the Rockies on Thursday
J.D. Martinez went 4-for-6 with a homer, four RBIs and two runs in the win over Colorado and has hit safely in 10 of his past 11 games. He is batting .304 (14-for-46) during that span.
-Field Level Media