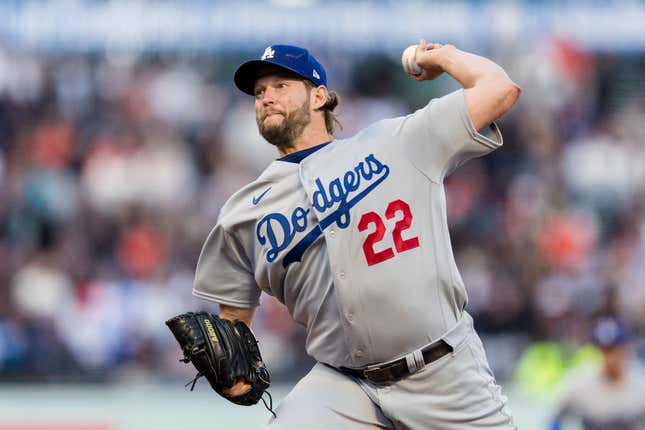 Dodgers left-hander Clayton Kershaw will put a career of brilliance against the New York Mets on the line when the teams meet in the middle game of a three-game series in Los Angeles on Tuesday night
'Soccer fandom is full of gatekeepers' says Ted Lasso actor Brendan Hunt
In 16 career regular-season starts against the Mets, Kershaw not only is 10-0, but he has a 2.17 ERA and a 1.023 WHIP in 103 2/3 innings
While Kershaw's first career outing against the Mets was rocky in 2008, when he gave up four runs on five hits in just 3 2/3 innings, his offense came to the rescue to leave him with a no-decision
The veteran has dominated the Mets since then, though he does have a loss against them in the postseason. Kershaw went 1-1 with a 2.63 ERA against New York in the 2015 National League Division Series. The Mets advanced to the World Series, where they lost to the Kansas City Royals
Kershaw's loss came in the series opener when he gave up three runs over 6 2/3 innings with 11 strikeouts. He avenged the defeat to earn the win in Game 4, but the Mets wrapped up the series in Game 5
The three-time NL Cy Young Award winner, in his 16th season, will enter Tuesday's outing off a road win Wednesday against the San Francisco Giants when he gave up three runs (two earned) in six innings. Kershaw (2-1, 3.50 ERA) gave up three runs in the first two innings before the offense rallied.
"I was thinking, I wasn't competing well, and so I kind of just flipped the switch and kind of got mad at myself there at the end," Kershaw said. "Just stop thinking and not worrying about how to pitch and just go pitch."
The Mets will counter with right-hander Tylor Megill (3-0, 2.25), who is on his own unbeaten run with his three wins in his first three starts of the season. The Mets also are riding a five-game winning streak as a team
The most recent win for Megill, a Los Angeles-area native, came Wednesday when he gave up three runs over five innings at home against the San Diego Padres. He has one career outing against the Dodgers, when he gave up three runs on six hits over five innings in a 2021 no-decision
Like Kershaw, Megill started slowly in his most recent outing, giving up two first-inning runs, before he settled in and the offense came to the rescue.
"First inning was a little slow for me," said Megill, who has never pitched at Dodger Stadium -- in high school, college or in the major leagues. "Mechanically, I felt a little off. I figured to start picking the tempo up a little bit. ... After the second inning I was a little iffy, but third through fifth I found my changeup."
The most recent Mets pitcher to win his first four starts of a season was right-hander Matt Harvey in 2015. Only nine Mets pitchers have accomplished the feat
Top prospect Brett Baty made his 2023 debut on Monday and went 1-for-4 with an RBI single as the Mets rallied for an 8-6 victory over the Dodgers behind Daniel Vogelbach's first home run of the season
Baty will take over at third base for the struggling Eduardo Escobar.
--Field Level Media