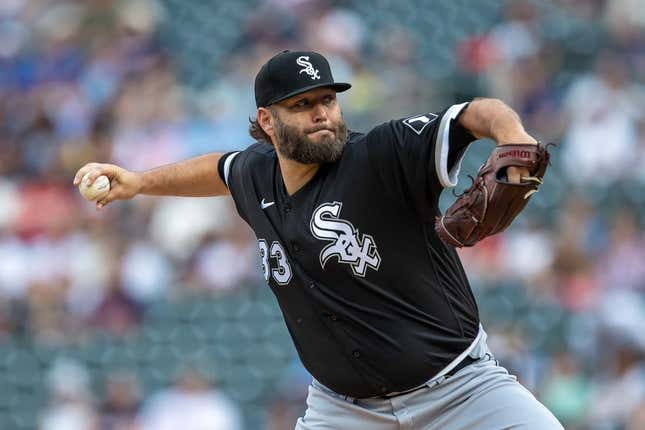 The pitching-starved Los Angeles Dodgers will show off one of their latest acquisitions on Tuesday and hope that veteran right-hander Lance Lynn pitches more to his track record than what he has shown this season
How running an NFL team is like running a restaurant | Chef Emeril Lagasse
Lynn struggled with the Chicago White Sox this season, with his own bumpy ride mirroring that of his team, which decided to gut its pitching staff last week and start another rebuild
Lynn will make his Dodgers debut against the visiting Oakland Athletics not only with a 9.18 ERA over his last three starts, but also with a major-league-leading 28 home runs allowed, including four against the Minnesota Twins on July 21. In 10 career starts against the A's, Lynn is 5-2 with a 3.56 ERA
Lynn (6-9, 6.47 ERA) did pitch seven scoreless innings on July 6 against the Toronto Blue Jays, leading the Dodgers to believe there is more in the tank for the 36-year-old veteran of 12 seasons, who has a career 3.71 ERA and was an All-Star as recently as 2021
A myriad of injuries to the starting rotation have led the Dodgers to give four rookies starts this season, with right-handers Bobby Miller and Michael Grove each making 1. Grove was rocked for eight runs on 10 hits in a loss to the Cincinnati Reds on Sunday, although he did have a career-best 10 strikeouts
Los Angeles starters had a 6.18 ERA in 23 July games, the highest in a single month since the club moved to Los Angeles, according to MLB.com's Sarah Langs
By the time Tuesday's game starts, the trade deadline will have passed, giving the Dodgers a bit more time to make another addition if they are so inclined
"I think I've been very candid in saying we always have room to improve on the pitching side," Dodgers manager Dave Roberts said. "We're going to go with who we have until we have more, when and if we do. That's kind of the mindset that we have.
The Dodgers are also monitoring the injury front with the starting lineup. Designated hitter J.D. Martinez (hamstring) and Will Smith (elbow) departed early in Sunday's game
Things could be worse, of course, as the A's can attest. They head into the three-game series with a major-league-worst 30-77 record and are 5-10 in the second half after a 2-0 road loss to the Colorado Rockies on Sunday. It was the 12th time Oakland was shut out this season
The A's prefer to focus on the 19 combined runs they scored in the first two games of the series at Colorado, both victories
"To come to (Denver) and keep that offense in check and win two of three games, shows the growth in the team and shows that we continue to be competitive," Oakland manager Mark Kotsay said. "Winning a series is a good sign, and the pitching side limiting (walks) in the series (was a plus).
Oakland has not named a starter for Tuesday's game, with left-hander Ken Waldichuk (2-6, 6.38) in line to take the mound. He did not allow an earned run in 4 2/3 innings against the San Francisco Giants last Tuesday
--Field Level Medi