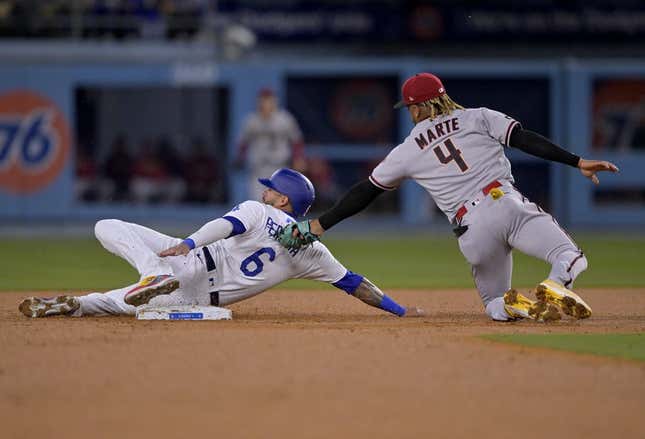 After more than eight productive seasons in Arizona, David Peralta still knows how to get the Diamondbacks' faithful to stir, even if he is with the Los Angeles Dodgers now
Bass' ERA stinks, but not compared to who he is off the mound | Worst of the Week Countdown
Peralta will get another chance to play in front of the fans who used to shower him with cheers when the Diamondbacks play host to the Dodgers in the second game of a four-game series on Friday at Phoenix
In the series opener on Thursday, Peralta was shown on the video board from his position in left field while fans gave a mixed reaction of cheers and boos. He is with a National League West rival, after all.
In the fourth inning, it was all cheers when Peralta struck out, but the reaction from the home crowd was not necessarily because of his failure. It was also the 500th career strikeout for Arizona right-hander Merrill Kelly.
"I've never seen Chase Field from this side," Peralta said on Spectrum Sports Net from the visitor's dugout before the game. "It looks different and it's weird, of course, because I spent my whole career with the Diamondbacks, but it is what it is. I'm ready to be the same guy, like I have been.
Peralta was prepared for an emotional day and it showed as he went 0-for-4, but the Dodgers pulled off a 5-2 victory. The 35-year-old veteran is off to a slow start, going 3-for-16 (.188) without an extra-base hit so far
Freddie Freeman homered for the Dodgers in the series opener. Los Angeles is 3-2 against Arizona after the teams split a four-game series in Southern California to open the season
"That's my goal every single day, to come in, try to do the little things right, play the game hard and respect the game," Freeman said after belting his first homer of the season. "Hopefully at the end of the game, we get a win and I contributed."
Jake McCarthy had two hits for the D-backs on Thursday, including a seventh-inning triple that led to a run. Arizona had five hits, with three coming against the Los Angeles bullpen over the final three innings.
The Dodgers will send Clayton Kershaw (1-0, 1.50 ERA) to the mound on Friday opposite D-backs left-hander Madison Bumgarner (0-1, 11.25). Kershaw got the best of a matchup between the veterans on Saturday in a 10-1 Dodgers victory, giving up one run on four hits over six innings with no walks and nine strikeouts
Kershaw improved to 21-11 lifetime against the D-backs with a 2.67 ERA in 42 starts.
Bumgarner was roughed up by the Dodgers for five runs on four hits and four walks in four innings. He ended up returning to Phoenix on Sunday to be examined by team doctors after feeling fatigue in his Saturday outing
"Everything is fine," Arizona manager Torey Lovullo said. "He just probably overcooked it a little bit in between starts in preparation. It was more over-prepping than anything."
In 42 career appearances (41 starts) against the Dodgers, Bumgarner is 16-18 with a 3.03 ERA
--Field Level Media