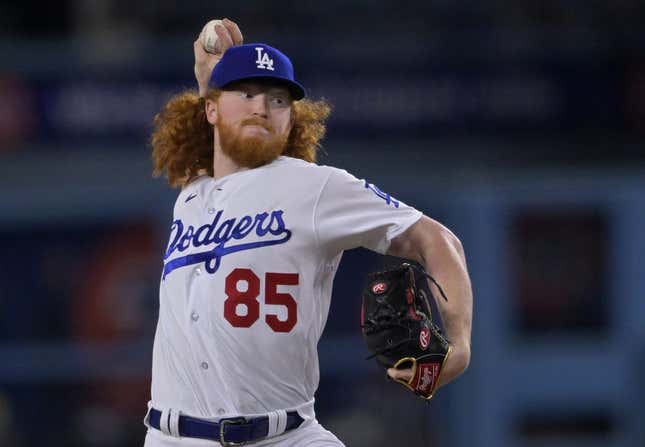 The Los Angeles Dodgers and host San Francisco Giants continue their three-game series on Tuesday, and they'll send pitchers to the mound who have a track record of recent success against the opponent
Will South Beach Flu give the Heat home court advantage? | Keep it a Buck(et)
In a duel of staff aces, Julio Urias remained unbeaten and Logan Webb winless when the Dodgers got a grand slam, three-run homer run and seven RBIs from Max Muncy in a 9-1, series-opening victory Monday night
Looking for a repeat, the Dodgers will send right-hander Dustin May (1-0, 0.69 ERA) to the hill to face an opponent other than the Arizona Diamondbacks for the first time this season. He limited the Diamondbacks to just one run and a total of five hits in 13 innings in his two starts, striking out nine and walking three
The 25-year-old has been nearly as good against the Giants in four career head-to-heads, including two starts, going 2-0 with a 0.79 ERA
In his lone previous Oracle Park start, he threw five no-hit, no-run innings in a 5-0 win last September, walking one and striking out four.
May was on a pitch count in all six of the starts he made last season after undergoing Tommy John surgery, and he said afterward he had no idea he hadn't allowed a hit in his five innings against the Giants. Dodgers manager Dave Roberts did, but had the bigger picture in mind
"Getting him out of the game feeling good is the win," Roberts said at the time. "We wanted to make sure we take care of him."
May only can hope Mookie Betts and Muncy make his return to San Francisco as enjoyable as they did for Urias. The lefty pitched with a lead from the get-go, thanks to Betts' game-opening home run on Webb's sixth pitch.
Muncy did most of the rest of the heavy lifting with twice as many homers as he'd totaled in the Dodgers' first 10 games
It's possible the slugger won't be in Tuesday's starting lineup against Giants left-hander Alex Wood (0-0, 3.00). The lefty-hitting Muncy is hitless against left-handers this season
Giants manager Gabe Kapler said he wasn't surprised to see the power display Monday
"He's been one of the better left-handed hitters around baseball over the last five years," he said of Muncy. "He's had his ups and downs, but it's not going to surprise us to see him do damage. In order for us to win against this team, we're going to have to avoid the big innings."
Muncy does have a homer -- but just one other hit -- in nine career at-bats against Wood, who threw 71 pitches in three innings in a tag-team effort with Jakob Junis in his only previous start this season against the Chicago White Sox. The Giants won the game 16-6, with Wood having given up six hits and three runs, only one of which was earned
A five-season member of the Dodgers over two stints, Wood has faced his old mates 11 times in regular-season play his career, nine times as a starter. He's gone 2-5 with a 4.09 ERA in those games
The 32-year-old has seen the Dodgers three times in the postseason, twice in relief for the Atlanta Braves in 2013, and as the starting pitcher of a 1-0 Giants win at Dodger Stadium in Game 3 of the 2021 National League Division Series. He pitched 4 2/3 innings of two-hit, shutout ball that day
--Field Level Media