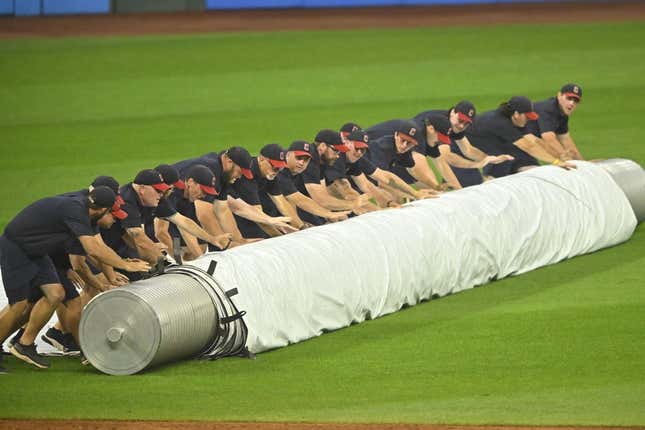 The Los Angeles Dodgers will need to put in a full day's work if they wish to claim their seventh straight series win.
Is Texas or Florida State a bigger national title contender? | Agree to Disagree
After Mother Nature forced the suspension of the second contest of their three-game series against the host Cleveland Guardians, the Dodgers will play the remainder of that clash as well as the regularly scheduled tilt on Thursday afternoon.
The Dodgers looked to atone for an 8-3 setback in the series opener on Tuesday by getting off to a fast start on Wednesday.
Will Smith had a sacrifice fly and Enrique Hernandez ripped a two-run double to stake Los Angeles to 3-0 lead in the first inning. Cleveland's Jose Ramirez answered with a solo shot off Clayton Kershaw in bottom half of the inning, marking his team-leading 19th homer and first since he went deep twice against the Chicago White Sox on July 30.
The weather then took a turn for the worse before the game officially was suspended after a delay of 96 minutes. It is set to resume in the top of the third inning at 12:10 p.m. ET.
"It was unfortunate. I don't want to get too much into how it was handled," Dodgers manager Dave Roberts said of the events that ultimately led to play being suspended. "I do think we could have got through four (innings) considering the pace of play, the way the game was going — and potentially five innings. ...
"I wish we could have kept playing until we saw rain drops. That's not my department. But I do think that we could have got some more baseball in."
The pitchers that will begin the completed game were not immediately known, although Kershaw and Cleveland's Xzavion Curry likely will not return to the mound after each pitched two innings on Wednesday.
Ryan Pepiot (0-0, 1.80 ERA) of the Dodgers will face Gavin Williams (1-4, 3.02) of the Guardians in a battle of rookie right-handers during the regularly scheduled contest.
Pepiot, 26, put his best foot forward after being added to the roster as the 27th man for the Saturday doubleheader against the Miami Marlins. The 6-foot-3, 215-pounder allowed one run on three hits and a walk while striking out five in five innings in during a no-decision.
"I finally felt like myself, just in my mechanics and everything," Pepiot said, per the Orange County Register. "I looked at some video from that compared to the stuff I had in spring training, it was pretty similar. I'm happy with where everything's at right now."
Pepiot will make his 11th career appearance and first against the Guardians.
Williams, 24, fell to 0-3 in his last seven outings after being undone by a rocky start on Friday. He allowed three runs in the first inning before tossing four scoreless frames in a 4-2 setback to the Detroit Tigers.
"He kind of paid for it in the first inning," Cleveland manager Terry Francona said. "I looked up, it was, I think it was pitch 64 and he stepped on it. I remember thinking, 'OK, good,' but just wasn't as crisp early on."
Williams has yet to face the Dodgers in his young career.
—Field Level Media