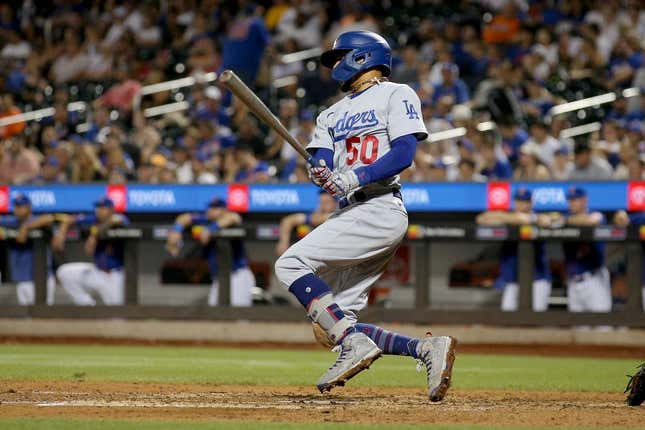 After managing the Los Angeles Dodgers to a playoff berth in each of his first seven seasons, Dave Roberts can treat this immediate stretch after the All-Star break like any other stretch
How running an NFL team is like running a restaurant | Chef Emeril Lagasse
The skidding New York Mets don't have that luxury -- and consecutive discouraging losses to the Dodgers have increased the urgency for a team in danger of falling out of the playoff race
The Dodgers will look to complete a three-game sweep of the Mets on Sunday afternoon, when Los Angeles visits New York in the final regular season-game between the clubs
Bobby Miller (5-1, 4.50 ERA) is slated to start for the Dodgers against Max Scherzer (8-3, 4.31) in a battle of right-handers
Mookie Betts homered and finished with four hits Saturday night, when David Peralta delivered the go-ahead RBI by beating out a potential double-play grounder in the eighth inning of the Dodgers' 5-1 victory
The win was the sixth straight for the Dodgers, who have gained 4 1/2 games in the National League West standings -- from 2 1/2 games behind the Arizona Diamondbacks to two games ahead -- since July 5
The Dodgers have outscored the opposition 43-16 during the winning streak. The thoroughness continued Saturday, when Betts had his third four-hit game of the season and five pitchers combined on a three-hitter
"I think I'm fortunate enough to have a group of players that understand the importance of every game, to be quite honest," Roberts said Saturday afternoon. "I think our guys, a superpower we have is we're going to play tonight just as intense as we played (Friday) night. And we're going to do the same thing in September."
The Mets' latest losing streak -- they have dropped four straight by a combined score of 20-4 and collected just 12 hits in that span -- has made their uphill climb to playing meaningful September baseball even steeper
New York, which has eight losing streaks of at least three games this season, is nine games behind the San Francisco Giants in the race for the third and final NL wild-card spot.
Mistakes dogged the Mets in the final two innings Saturday night. Pete Alonso threw high to second base on Peralta's grounder, which forced Francisco Lindor to leap and then come back to touch second base before he fired late to first
Betts scored the first of the Dodgers' three runs in the ninth when rookie Brett Baty was charged with an error after Max Muncy's pop-up drifted from foul territory to fair territory and off his glove
"Not good enough. I don't know how else to really say it," losing pitcher Adam Ottavino said of the Mets' recent stretch. "When it comes to team play, it's about wins and losses, and we've lost the last four games. So it's not what we're looking to do.
Miller hasn't pitched since July 5, when he earned the win after giving up four runs over 5 2/3 innings as the Dodgers beat the Pittsburgh Pirates 6-4. The rookie has never opposed the Mets
Scherzer took the loss in his most recent start on July 9, when he allowed five runs over five innings as the Mets fell to the San Diego Padres 6-2. He is 5-5 with a 2.51 ERA in 17 career games (15 starts) against the Dodgers
--Field Level Media