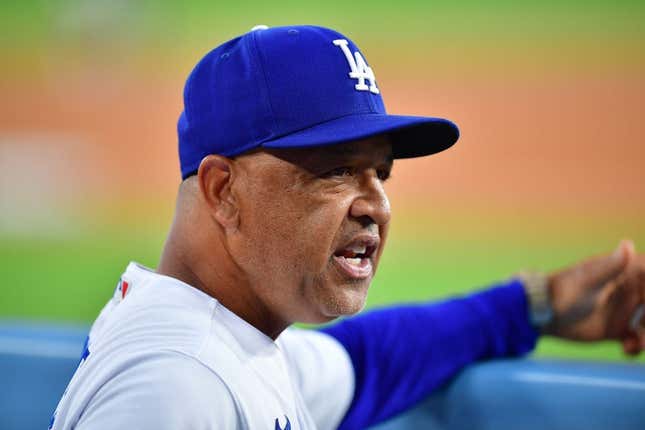 The Los Angeles Dodgers will continue to hope for consistency from Julio Urias when the left-hander takes the mound Thursday night in the series finale against the visiting Oakland Athletics
How running an NFL team is like running a restaurant | Chef Emeril Lagasse
Urias (7-6, 4.98 ERA) missed a month and a half with a hamstring injury and has been all over the map since his return, going 2-2 with a 6.23 ERA in five July outings
His wild ride is best represented in his three most recent starts: six scoreless innings against the New York Mets on July 14, eight runs allowed in five innings to the Baltimore Orioles on July 19, and the middle ground with three runs allowed in six innings against the Toronto Blue Jays on July 25
Urias will start on Thursday because his original spot in the rotation was pushed back a few days because of discomfort with the index finger on his pitching hand
He has just one career appearance against the A's, giving up one run over six innings in a 2020 start. Similar success Thursday could be enough to give Los Angeles a series sweep and salvage a homestand that started with two losses in three games against both the Blue Jays and Cincinnati Reds
The Dodgers' offense was in sync Wednesday. Amed Rosario, Miguel Rojas, Mookie Betts and Jason Heyward hit home runs in a 10-1 victory. Freddie Freeman had three hits. It all came without All-Star J.D. Martinez, who has missed the last two games with a mysterious groin or hamstring injury
"Nobody knows, including myself," Martinez said of the issue, according to the Los Angeles Times. "It's weird because it tightens up on me, and then I can't even walk, and all of a sudden, a day later, I feel perfectly fine.
The A's will counter with left-hander JP Sears (2-7, 4.09), the third consecutive lefty starter for Oakland in the series. Sears will enter off a solid start at Colorado on Friday when he gave up one run on four hits over five innings while earning his first win since June 11
After pitching at Colorado for the first time in his career, Sears will make his first career appearance against the Dodgers
"It's an adjustment (to pitch at Colorado), but you can't think too much about it," said Sears, who could use the same mentality against a red-hot Dodgers offense. "Some of the late movement on your pitches might not be there. It's about just changing your sights and knowing when to be a little more aggressive and less aggressive against guys.
After Thursday's game, the A's will head home for a rare Friday off day before opening a two-game home series against their Bay Area neighbors, the San Francisco Giants
Oakland was optimistic that better play was ahead after winning a series at Colorado over the weekend, but the two defeats against the Dodgers have put them a season-high 49 games under .500 at 30-79. It is the first time Oakland has been 49 games under the break-even mark since finishing the 1979 season with a 54-108 record
The A's already have been swept 14 times this season, tied with the 2016 season for the team's most over the last 26 years
--Field Level Medi