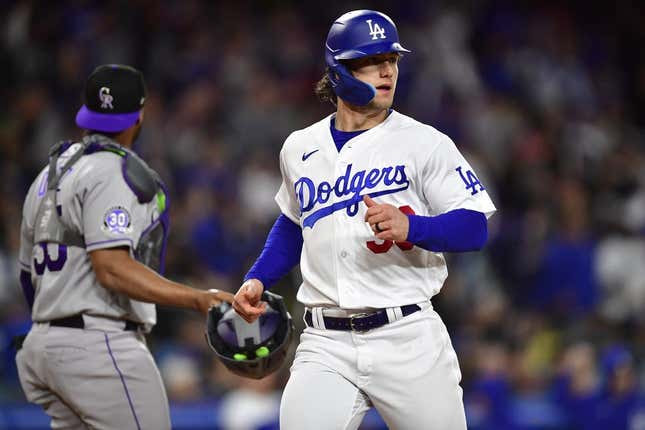 If the Los Angeles Dodgers' early-season track record holds on Tuesday, the visiting Colorado Rockies will like their chances in the finale of a short two-game series
Bass' ERA stinks, but not compared to who he is off the mound | Worst of the Week Countdown
The Dodgers belted three home runs and scored seven runs in the fifth inning as part of a 13-4 thumping of the Rockies in the series opener Monday
Los Angeles will try to avoid its on-again, off-again tendencies Tuesday.
In five games, the Dodgers have followed an offensive outburst with a quiet game, scoring eight runs to defeat the Arizona Diamondbacks on Opening Day then following that with a one-run defeat, a 10-run victory, a one-run defeat and Monday's 13-run explosion
Poised to catch the Dodgers on a potential down day is Rockies right-hander German Marquez (1-0, 3.00 ERA), who makes his second start. He pitched strong six innings in a season-opening road victory over the San Diego Padres on Thursday. Marquez gave up two runs on five hits in six innings with no walks and five strikeouts
In 16 career starts against the Dodgers, Marquez is 3-4 with a 3.58 ERA, and in eight career starts at Dodger Stadium he has a 2.49 ERA and a .176 opponents' batting average
It will be Marquez's job to avoid the big inning. The Dodgers put up their seven spot all with two outs in the fifth on Monday. The Rockies looked to be out of the inning when Ryan Feltner appeared to strike out Will Smith on a pitch low in the zone. But Smith was awarded a walk and the Dodgers went on to pile up the runs
"You absorb a potential bad call," Rockies manager Bud Black said. "We still had a number of guys that we could get out. We didn't. That's on us.
Rockies right-hander Jake Bird not only let all three of his inherited runners score, he gave up four of his own runs while recording just one out
Like the Rockies, the Dodgers also will turn over their rotation. Opening Day starter Julio Urias (1-0, 3.00) will take the mound after also giving up two runs over six innings with no walks and six strikeouts in an 8-2 victory over the Arizona Diamondbacks
Making his first career start in an opener, the National League ERA champion from a season ago looked out of sync by giving up a run in each of the first two innings. But he faced the minimum 12 batters over his final four innings.
In his career against the Rockies, Urias is 5-2 with a 4.91 ERA in 19 appearances (16 starts). His 72 career strikeouts against Colorado are second most to his 111 against the San Francisco Giants
Despite 25 to 35 mph winds and cold temperatures at Dodger Stadium on Monday, the Dodgers got home runs from Chris Taylor, Jason Heyward and Will Smith. Rookie James Outman had two triples. The seven-run fifth helped the Dodgers overcome a 4-2 deficit
"I think we can swing it, I think we can throw the ball and I think we can play catch," Outman said. "I think we're a good team and I think a little comeback team was a good reminder for us that we are a good team."
--Field Level Media