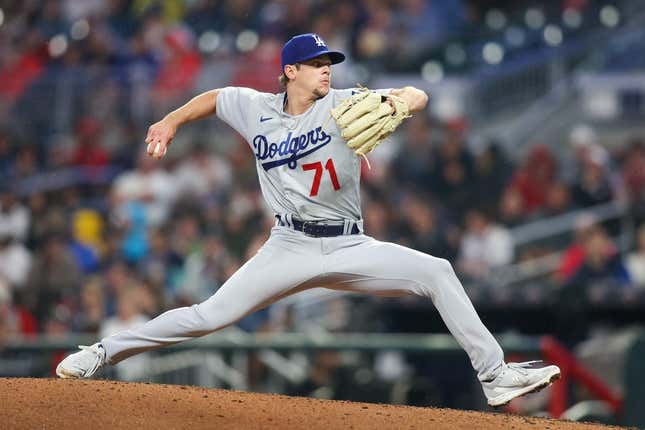 The Los Angeles Dodgers will return home to open a three-game series against the San Diego Padres on Monday, looking to forge a path forward with a starting rotation that has come into question.
How running an NFL team is like running a restaurant | Chef Emeril Lagasse
The Dodgers were scheduled to start left-hander Clayton Kershaw on Monday but pushed his start to Friday against the Seattle Mariners. The Athletic reported that Dodgers manager Dave Roberts said the move had nothing to do with questions about Kershaw's health but was made to better line up his starts the rest of the season.
Instead, the Dodgers will start right-hander Gavin Stone (1-0, 10.50 ERA) in a pinch. The rookie will be called up from Triple-A Oklahoma City to make his fourth career start. He has never faced the Padres.
Kershaw spent six weeks on the injured list with shoulder discomfort, returned Aug. 10 and continues to deal with diminished velocity.
"He's going to keep going. He's going to keep going until he can't," Dodgers manager Dave Roberts said of Kershaw. "... If he is able to take the baseball, he's going to take the baseball. This has nothing to do with where the rotation's at, who's available, who's not. It's about Clayton taking the baseball for us and us managing each game he throws."
Kershaw declined to talk about the condition of his shoulder, saying after a start last week at Miami, "I feel fine. That's not the problem." According to The Orange County Register, Los Angeles pitching coach Mark Prior suspects Kershaw has a timing issue with his delivery.
Kershaw is 2-0 with a 2.86 ERA in five starts since returning from the injured list but his fastball velocity was down to an average of 88.4 mph against the Marlins.
Whatever the issue, it has raised concerns for the Dodgers, who still have a comfortable lead in the National League West but have rotation uncertainty heading toward another playoff appearance. Lance Lynn has given up six home runs over his past two starts. The rest of the rotation is Emmet Sheehan, Bobby Miller and Ryan Pepiot.
The Dodgers earned a 7-3 road victory over the Washington Nationals on Sunday but are just 4-5 since a 24-5 August.
The Padres will counter with right-hander Pedro Avila (1-2, 2.19) as they enter off consecutive road defeats against the Houston Astros. Essentially out of playoff contention in a season that started with so much promise, San Diego has lost four of its past six games and gone 6-10 since Aug. 25.
Padres slugger Manny Machado, who has been dealing with an achy forearm muscle, did not play in Sunday's 12-2 loss to the Astros.
San Diego was derailed by Houston's eight-run sixth inning. Matt Carpenter and Eguy Rosario hit home runs for the Padres. It was the first career home run for Rosario, who appeared in seven games with the Padres last season but played in his first MLB game of 2023 on Sunday.
Avila enters off his best outing of the season — and first career win — when he held the Philadelphia Phillies to 6 2/3 scoreless innings at home Tuesday and received a standing ovation.
Since 2015, Avila has made 174 minor league appearances (132 starts), but could be in line for a Padres rotation spot in 2024.
"I'm so happy for him," Padres teammate Fernando Tatis Jr. said. "Being able to see all the work that we put in together in the minor leagues — him for a longer period of time — and now that we're here, both together in the big leagues, and seeing him having success, it's a really beautiful history to be a part of."
—Field Level Media