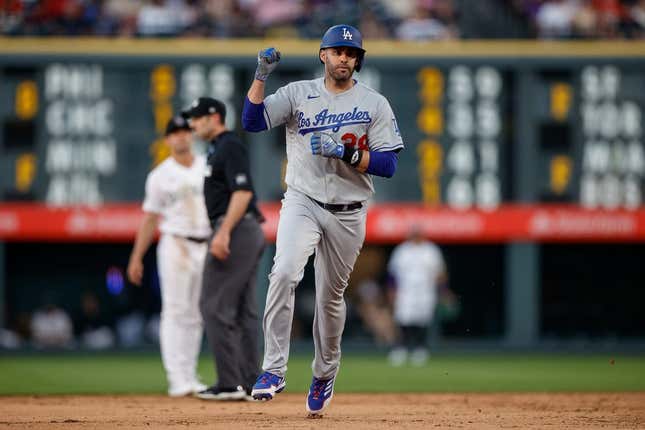 J.D. Martinez wasn't sure he was going to forge a major league career when he was released by the Houston Astros in 2014.
Is Texas or Florida State a bigger national title contender? | Agree to Disagree
Not only did he stick in the big leagues, he hit a career milestone with his 300th home run for the Los Angeles Dodgers in their victory over the Colorado Rockies on Tuesday night
Martinez, in fact, might be working on being a first-ballot Hall of Fame selection if he played more games at Coors Field in Denver.
Martinez is hitting .421 with five home runs in 13 career games there, and he will get a chance to improve those numbers when the Dodgers wrap up a three-game series at Colorado on Thursday night
Colorado won 9-8 Wednesday night in a game that featured 13 combined walks, eight by Rockies pitchers
In a clash of right-handers, Los Angeles will send rookie Emmet Sheehan (1-0, 1.50 ERA) to the mound against veteran Chase Anderson (0-2, 5.79) in the series finale.
Martinez hit 24 home runs before being cut by Houston but found a home in Detroit, where his career blossomed, and he had an MVP-worthy 2018 when he helped Boston win the World Series. Martinez hit .330 with 43 home runs, 130 RBIs and 111 runs that season and now is bolstering a strong Dodgers lineup
He has 18 home runs this year, the last two coming Tuesday night to reach the 300 career mark.
"It's a blessing, honestly. From where I started, with my whole story of getting released by Houston and just getting the chance and opportunity with Detroit, believing in me, I never would have guessed it," Martinez said.
He had a chance to be a hero on Wednesday night when he came to bat with the bases loaded in the eighth, but he struck out to end the inning.
Sheehan will make his third career start and his first against Colorado. He has been impressive in his first two outings, tossing six no-hit innings in his major league debut on June 16 against the San Francisco Giants and getting his first win Friday against Houston. He gave up two runs and three hits in six innings in that game, striking out four and walking two.
Anderson has had a different experience of late, especially Saturday when he gave up home runs on three straight pitches during his team's 25-1 loss to the Los Angeles Angels.
Before Saturday, the most recent time a pitcher had given up home runs on three consecutive pitches was Sept. 17, 2020, when the New York Yankees did it ... against Anderson.
The veteran, who gave up nine runs in 2 2/3 innings on Saturday night, said he needed to put the game behind him.
"You've got to move past it. I've played this game long enough to know that you have really good times, really bad times," he said. "That's the hard part."
Anderson will make his 13th start and 14th career appearance against the Dodgers. In his previous outings he is 2-4 with a 4.62 ERA, and the last time he faced them was on April 20, 2019, when he was with the Milwaukee Brewers. He got the win in the 5-0 Milwaukee victory
--Field Level Media