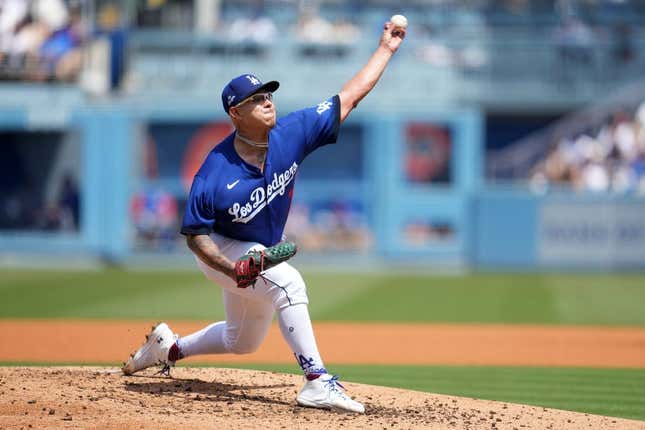 The Chicago Cubs were the first team to hand Los Angeles Dodgers left-hander Julio Urias a loss this season
Bass' ERA stinks, but not compared to who he is off the mound | Worst of the Week Countdown
Urias now gets a shot at payback when he faces the Cubs for the second time in as many starts on Friday. The visiting Dodgers will aim to win consecutive games for the first time in more than two weeks
After going 37-10 with a 2.57 ERA over 63 starts the previous two seasons, Urias (3-1, 1.90 ERA) continued that success at the start of 2023. He allowed three runs, two walks and 13 hits while striking out 20 in 18 innings to win his first three starts.
However, on Sunday, Chicago made Urias work. He yielded three runs (two earned) and eight hits, including solo homers to Patrick Wisdom and ex-Dodger Cody Bellinger, and he fanned six over 100 pitches in 5 2/3 innings during Los Angeles' 3-2 home defeat. His teammates gave him just one run of support after he had received 20 in his first three starts, and they had a less-than-stellar defensive effort.
"I thought Julio threw the heck out of the baseball," Dodgers manager Dave Roberts said. "We gave (the Cubs) more than 27 outs and, as a result, Julio couldn't go deeper. ... They score runs that might not have scored. So that's baseball, and we've just got to keep getting better.
Aside from the big hits by Wisdom and Bellinger, Chicago's Nico Hoerner is 3-for-4 in his career vs. Urias, while teammates Yan Gomes, Ian Happ and Dansby Swanson are a combined 8-for-24 (.333).
The Cubs entered Thursday leading the NL with an average of 5.21 runs, but six pitchers held them to six hits during the Dodgers' 6-2 series-opening victory
Los Angeles rookie James Outman homered twice, highlighted by a grand slam to break open a 2-2 game in the ninth.
The Dodgers have not earned back-to-back victories since winning three straight April 3-6. Outman went 1-for-8 against Chicago last weekend, but he is batting .375 (6-for-16) in four games since
Meanwhile, teammate Max Muncy clubbed his eighth homer on Thursday. In his past 10 games, he is batting .393 (11-for-28) with seven home runs and 14 RBIs.
Muncy is 2-for-10 with a homer against the Cubs' scheduled Friday starter, Drew Smyly (1-1, 4.70). The left-hander delivered a solid outing against the Dodgers on Sunday. He allowed a solo homer to Chris Taylor, three other hits and two walks in 5 2/3 innings while posting his first victory of 2023
Chicago, which had won 10 of 13 entering this series, last dropped two straight during a three-game skid April 1-3. The Cubs were held to six hits on Thursday after totaling 66 hits and outscoring Los Angeles and the Oakland A's 38-9 during a 5-1 road trip
"They're just professionals, and they give winning at-bats every single time," Chicago manager David Ross said. "Battled tooth and nail (on Thursday), and just couldn't get one to fall."
Bellinger, who spent his first six seasons with the Dodgers and won the NL MVP award in 2019, is batting .385 (15-for-39) with three homers and seven RBIs in his past 10 games. He is 4-for-13 with two home runs against his former team
--Field Level Media