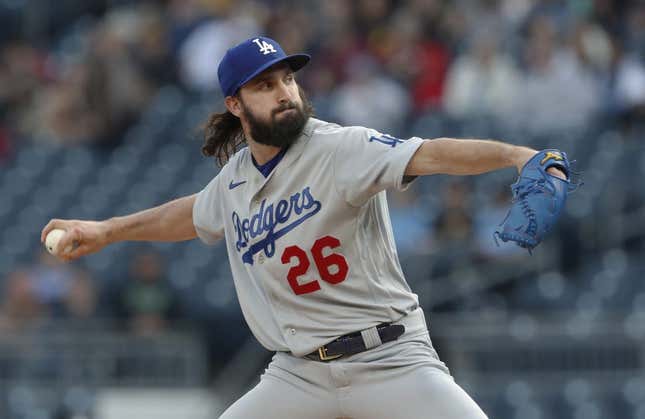 After recovering from a sprained ankle suffered in spring training, Los Angeles Dodgers pitcher Tony Gonsolin is trying to rebuild his mound endurance
Watch Greg Hardy go night-night | The SEO Show
That process continues Monday against the visiting Philadelphia Phillies. Gonsolin (0-0, 0.00 ERA) will make his second start of the season in the opener of a three-game series
In his first start, Gonsolin threw 3 1/3 scoreless innings against the Pittsburgh Pirates while allowing two hits and three walks. He threw 65 pitches, 39 for strikes.
"I threw way too many balls today," Gonsolin told MLB.com after the game. "Not necessarily thinking about building up at all. I'm just trying to go out there and pitch for as long as I can. Just need to throw more strikes."
Dodgers manager Dave Roberts was pleased with Gonsolin's belated debut
"I thought he was good," Roberts said. "They did a good job of controlling the strike zone and making him repeat pitches, and the pitch count got up there. But I think that was more of a reflection of that offensive approach tonight versus what Tony could or couldn't do.
"I think he wanted to get through four (innings), but I felt he was spent. But I thought it was still a step in the right direction for him."
In two career starts against the Phillies, Gonsolin has allowed two runs on seven hits and two walks in 9 2/3 innings. He has struck out 12 batters
The Phillies will counter with Taijuan Walker (2-1, 4.97 ERA), who exited his previous start with forearm tightness after throwing 68 pitches over four innings
Walker is 3-3 with a 4.32 ERA in 11 career starts against the Dodgers. He has had trouble with Mookie Betts (5-for-10, two walks, double, RBI) and Chris Taylor (4-for-14, two walks, double, RBI)
The Dodgers enter this series after sweeping their weekend set against the St. Louis Cardinals. After starting the season 5-10, the Phillies have won their last four series while going 10-4
Outfielder Nick Castellanos has helped drive the Phillies' surge. He is 12-for-32 with four homers and six RBIs in his last eight games. After struggling against sliders last season, he has been handling that pitch this year
"I didn't work at that at all in the offseason, honestly," Castellanos told NBC Sports Philly. "But I just think I'm in a more relaxed place in my life, and when I'm more relaxed, I'm a better baseball player."
Phillies outfielder Bryce Harper is nearing his return from Tommy John surgery. He hopes to get medical clearance on Monday to return at designated hitter as soon as Tuesday
"I don't think, just talking with Harp, I don't think he'll play tomorrow even if he's cleared," Phillies manager Rob Thomson said Sunday. "But hopefully, he gets cleared.
The Dodgers expect to get injured middle infielder Miguel Rojas (hamstring) back for this series. Over the weekend, they regained catcher Will Smith (concussion symptoms) from the injured but lost designated hitter J.D. Martinez (back soreness)
Rookie third baseman Michael Busch could help Martinez's offensive void.
"Michael will start tomorrow," Roberts said on Sunday. "I'm not sure if it's DH or in the field."
--Field Level Media