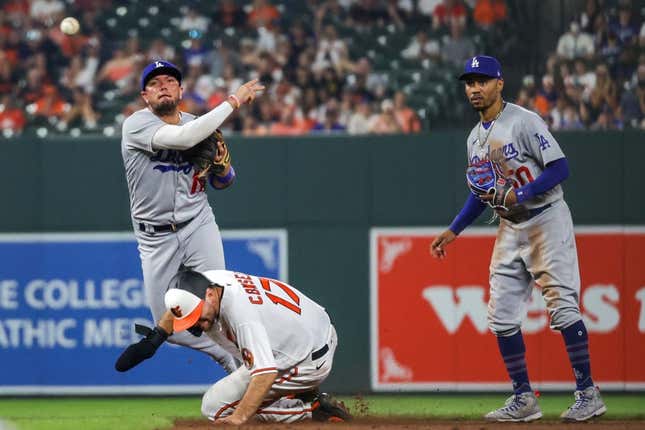 The Los Angeles Dodgers look to continue their torrid play by taking a three-game series against the host Baltimore Orioles on Tuesday
How running an NFL team is like running a restaurant | Chef Emeril Lagasse
The Dodgers rallied from a 4-1 deficit on Monday to end the Orioles' season-best, eight-game winning streak by scoring five times in the sixth inning, which was highlighted by Chris Taylor's grand slam
While Taylor delivered the biggest blow, the Dodgers also got three hits from Freddie Freeman, who went 3-for-5 with a double, a triple and two runs, with Will Smith going 2-for-3 with a walk, an RBI and a run
After the Dodgers seized their first lead of the game, their bullpen took care of the rest. Yency Almonte, Alex Vesia, Caleb Ferguson and Ryan Brasier held the Orioles to just two hits and a walk in four scoreless innings after starter Emmet Sheehan allowed four runs in the first five frames
The Dodgers look to take the series behind spot-starter Michael Grove (1-2, 6.89 ERA), who will face the Orioles for the first time in his career on Tuesday. The right-hander allowed four runs on six hits with six strikeouts and a walk in six innings of relief in a 10-5 win over the Los Angeles Angels on July 8
"Just getting some runs early and then being able to get a shutdown inning is huge," Grove, who relieved Vesia to open the second inning against the Angels, said. "For them to keep piling them on as the game went on was awesome and just lets you be a little bit more loose and just attack guys."
Five days earlier, in his last start, Grove held the Pittsburgh Pirates to a run on five hits with three strikeouts and two walks in four innings during a 5-2 win.
The Orioles will counter with Tyler Wells (7-4, 3.18), who held the Minnesota Twins to two runs on six hits with four strikeouts and two walks over six innings in a 6-2 win in his last start on July 8
While the Orioles sent four players, including relievers Yennier Cano and Felix Bautista, to the All-Star Game last week, Wells was left off the roster despite allowing two earned runs or fewer in each of his past eight starts
In his 17 starts this season, the right-hander has allowed fewer than three earned runs 12 times and hasn't eclipsed that mark in an outing since May 24.
"Unfortunately, it wasn't up to me," Wells, who has never faced the Dodgers, said of his All-Star snub. "I felt like I put together a really quality first half. But as someone once told me, 'To be an All-Star, you only have to play good for the first half. To be a world champion, you've got to play good the whole year.' And that's kind of my outlook right now
"I'm wanting to win a championship, and I think that's the ultimate goal for every person in here. To have All-Star in front of your name's a cool thing, but hopefully, one of these days, I'll have the opportunity to say that."
--Field Level Media