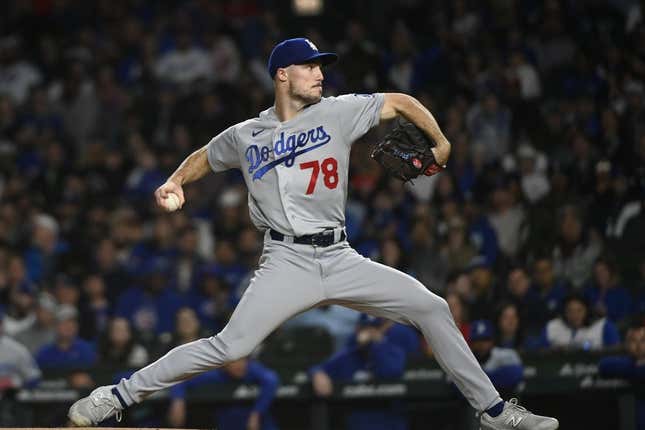 The Los Angeles Dodgers lost another No. 5 starter as right-hander Michael Grove was placed on the 15-day injured list Friday with a groin strain
Air Jordans are more American than McDonald's French fries | Deon Cole's Ultimate Sports Fantasy
Grove becomes the third pitcher on the IL who was either destined to be a No. 5 starter or was used in the role this season. The spot initially belonged to right-hander Tony Gonsolin, but he rolled his ankle in spring training. Right-hander Ryan Pepiot was in line to take over but went down with an oblique injury just before the season started.
Grove, 26, is 0-1 with an 8.44 ERA in four starts this season after he entered with just seven games (six starts) of major league experience. He first tweaked his groin in the bullpen before Thursday's outing against the Chicago Cubs and left after four innings when the injury began to tighten.
To replace Grove on the active roster, the Dodgers recalled right-hander Jake Reed from Triple-A Oklahoma City before Friday afternoon's game against the host Chicago Cubs. Pepiot was transferred to the 60-day IL to make room on the 40-man roster for Reed
Reed, 30, went 2-0 with a 7.02 ERA in 18 appearances last season for the New York Mets, Dodgers and Baltimore Orioles. He is 2-1 lifetime with a 5.74 ERA in 28 major league appearances
Gonsolin could be ready to make his season debut next week, although the Dodgers could skip the No. 5 spot with an off day Monday. Right-hander Gavin Stone also is in consideration for the role in what would be his major league debut
Gonsolin, an All-Star for the first time in 2022, went three innings and threw 57 pitches in a rehab assignment with Oklahoma City on Thursday, giving up two runs on one hit and two walks with seven strikeouts.
--Field Level Media