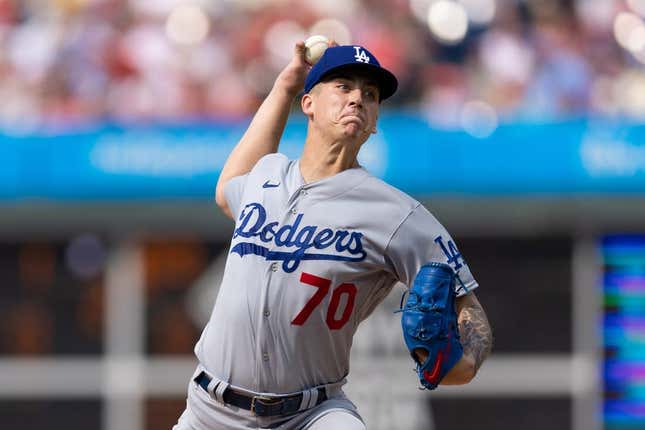 After facing adversity for the first time in his young major league career, Los Angeles Dodgers rookie right-hander Bobby Miller will take the mound again Saturday at home against the Houston Astros
How running an NFL team is like running a restaurant | Chef Emeril Lagasse
Miller gave up just two runs over the first four starts of his career (23 innings) but was roughed up for seven runs on seven hits over 5 2/3 innings in a loss to the San Francisco Giants last Saturday.
With an extended rest, Miller (3-1, 2.83 ERA) now will face the Astros for the first time in his career
Things were going according to plan for Miller against the Giants when he opened with four scoreless innings while allowing two hits. But the 24-year-old gave up four runs in the fifth inning and went down 5-0 in the sixth when he was removed with two runners on base. Those runners scored as the evening quickly deteriorated.
"I've lost plenty of times in my life," Miller said after the outing, already turning the page in advance of the game against the Astros. "You win some, you lose some. Just gotta stay positive and keep pitching, keep doing what I'm doing.
When the night was done, the Giants' 15-0 victory was the largest run margin in a game in which the Dodgers were shut out in the history of Dodger Stadium
In five career starts, Miller has pitched following a loss four times. But he will take the mound following Friday's 3-2 Dodgers victory
Miller can follow the successful pattern of fellow rookie right-hander Emmet Sheehan, who gave up two runs over six innings to the Astros for his first career win
The Astros will send their own rookie to the mound Saturday in right-hander Ronel Blanco (1-0, 4.66 ERA). It will be the second consecutive game in which both teams will use rookie starters after Sheehan was opposite Astros right-hander J.P. France on Friday
Blanco, who has never faced the Dodgers, enters off a no-decision Sunday at home against the Cincinnati Reds when he gave up five runs on seven hits over 5 2/3 innings with two walks and five strikeouts. It was the most runs he has allowed in 19 career appearances (three starts)
The Astros lost Sunday's game to the Reds 9-7 in 10 innings as the fourth defeat of a five-game losing streak
The Astros have struggled to find success without Yordan Alvarez, who is down with an oblique injury. Alvarez last played on June 8, and since then, Houston is 5-8 without its slugger, who has 17 home runs, 55 RBIs and a .978 OPS this season
"Yordan is one of probably our best players, but overall as a team we've got to find a way to win games," Astros catcher Martín Maldonado said. "Somebody has to step up. He's not going to come back for at least a month or something. It's about stepping up.
The Astros had just three hits in Friday's opener, but two were home runs, and they came back-to-back in the fourth inning by Mauricio Dubon and Kyle Tucker. Houston did not have a hit over the final five innings
--Field Level Media