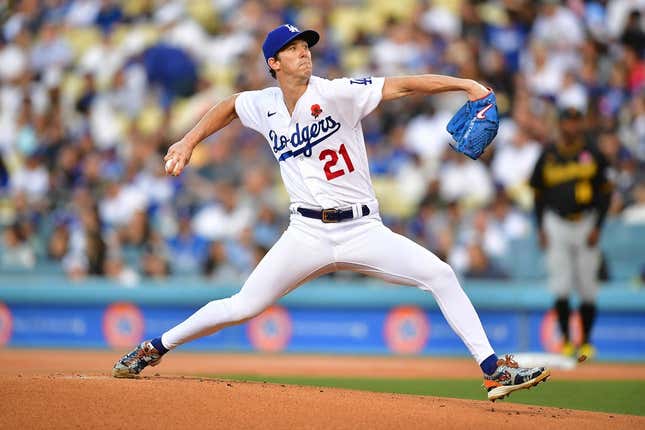 The Dodgers have pieced together their pitching staff all season because of injuries, but things are looking up as Los Angeles aims for a 10th National League West title in 11 seasons
How running an NFL team is like running a restaurant | Chef Emeril Lagasse
Clayton Kershaw returns Thursday from six weeks on the injured list to start against the Colorado Rockies, and Walker Buehler and Blake Treinen could make returns this season
Both threw in a simulated game Wednesday in Phoenix, where the Dodgers were facing the Arizona Diamondbacks. Buehler had Tommy John surgery in June 2022; Treinen underwent shoulder surgery last November
For both pitchers, it was their first simulated game since their surgeries. Buehler said he anticipates being able to contribute to the Dodgers in the stretch run
"Tommy John (rehab) is 14 to 18 months, and If I step on a field this year, I'll have blown that out of the water," Buehler said. "So I'm pretty proud of where I am right now.
Treinen's fastball clocked 94 mph Wednesday, a tick above Buehler's
"It went really well. Much better than I expected," Dodgers manager Dave Roberts said of Buehler. "Everything looked crisp
"For me, it was encouraging. I think it was 92-93 mph. Cutter was 90. So the velocity was a lot better than I expected.
Buehler said he anticipates being ready for a minor league rehab assignment around Sept. 1. Roberts said "the outlook is good" for Buehler to return to the Los Angeles roster later in the month
Reliever Shelby Miller also could return from a herniated disc in his neck in September. Roberts said the prospect of the return of the three right-handers in September is a good problem to have
"Things seem to always happen," Roberts said. "But the worst-case scenario is we're gonna have some tough decisions, which is a good thing.
Buehler said he is excited about what's ahead
"Every year that we get to do this for a living is such a blessing," he said. "So for me to be able to touch a mound would be a huge thing and make 2023 not a complete throwaway. It's hard to take years off your career, right? We only get to do this for so long. I'm happy to be a part of this organization and this team. I guess in some way I want to be a part of this team and not just the organization.
Buehler, 29, hasn't pitched since June 10, 2022. In six seasons with the Dodgers, Walker has a 46-16 record with a 3.02 ERA in 115 games (106 starts). He is a two-time All-Star
Treinen, 35, is a nine-year veteran who was part of the Dodgers' 2020 World Series-winning team. He has is 36-31 with 79 saves and a 2.86 ERA in his career
Miller, 32, last pitched on June 15. On the season, he is 1-0 with a 2.40 ERA and his lone career save
--Field Level Medi