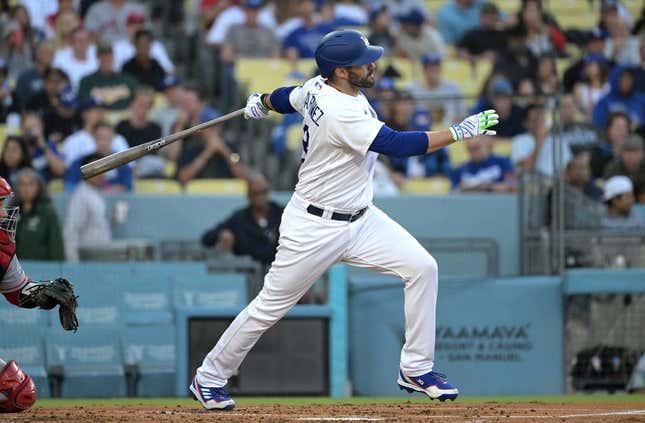 The Los Angeles Dodgers placed All-Star designated hitter J.D. Martinez on the 10-day injured list Tuesday because of groin tightness, as he continues to struggle with lower abdomen and leg discomfort.
How running an NFL team is like running a restaurant | Chef Emeril Lagasse
In a corresponding move, the Dodgers recalled infielder Michael Busch from Triple-A Oklahoma City.
Martinez, 36, has been bothered most of the past month with what has been described as anywhere from groin to hamstring to lower back discomfort. Martinez referenced his adductors in a recent interview.
One of four All-Stars at the top of the Dodgers' order, Martinez is batting .256 with 25 home runs and 78 RBIs in 92 games this season. He is batting .262 with three home runs and 16 RBIs since the All-Star break, while playing in 19 of the Dodgers' 34 games in the second half.
In 13 major league seasons, the six-time All-Star is a career .286 hitter with 307 home runs and 977 RBIs in 1,501 games for the Houston Astros (2011-13), Detroit Tigers (2014-17), Arizona Diamondbacks (2017), Boston Red Sox (2018-22) and Dodgers.
Busch, 25, batted .200 with four RBIs in 15 games for the Dodgers earlier this season after making his major league debut April 25. In 88 games at Oklahoma City this season, he is batting .323 with 24 home runs and 82 RBIs.
The Dodgers also sent right-hander Blake Treinen on a rehab assignment to the Arizona Complex League. Treinen, 35, has not pitched this season after shoulder surgery in November. In nine seasons, he is 36-31 with a 2.86 ERA and 79 saves in 449 appearances (seven starts) with three teams.
—Field Level Media