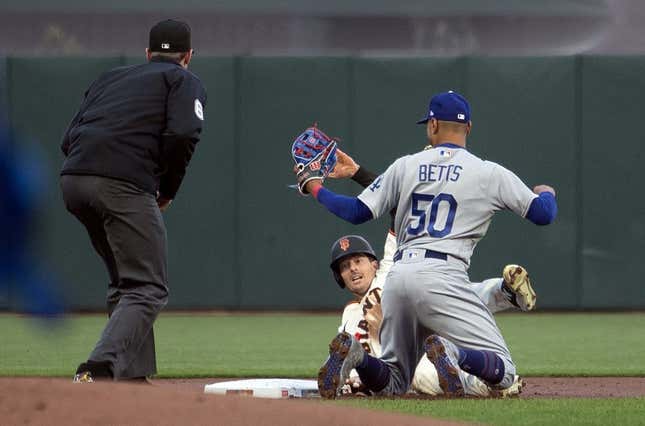 After missing a game on Tuesday while on the paternity list, Los Angeles Dodgers star Mookie Betts might return to action on Wednesday in a new spot: shortstop
Bass' ERA stinks, but not compared to who he is off the mound | Worst of the Week Countdown
The Dodgers are thin at shortstop, prompting manager Dave Roberts to ponder the move for Betts, at least part time. Betts played almost exclusively in the outfield from 2015-22, making six All-Star appearances and winning six Gold Gloves, before making a handful of appearances at second base this year
Los Angeles shortstop Gavin Lux underwent surgery on March 7 to repair two torn ligaments in his right knee, likely ruling him out for the season. Chris Taylor has been the primary option at shortstop in Lux's absence, but he sustained a left side injury on Monday, leaving him day-to-day.
The Dodgers' other available shortstop is Miguel Rojas, who is batting .129 (4-for-31) with no RBIs
Asked on Tuesday about putting Betts at shortstop, Roberts said, "We'll see."
The manager added that Betts has been practicing at shortstop.
"He looks extremely natural (there)," Roberts said. "The guy can play anywhere on a baseball field. So I think there was some reservations about him playing second base last year and he quickly put those to bed."
Roberts admitted that moving Betts to shortstop wouldn't have been a discussion had Taylor not been hurt.
"I think when you're talking about a third string at any position, there's some things that have to happen that you just kind of have to get through," Roberts said. "Hopefully CT's thing is minimal and we don't have that conversation, but I just don't know. But to have Mookie as your third string at anything -- I think teams can be doing a lot worse."
Betts missed the Dodgers' Tuesday night game against the visiting New York Mets but is expected to return for the series finale on Wednesday afternoon. He is hitting .266 (17-for-64) with two homers and six RBIs through 17 games this year
--Field Level Media