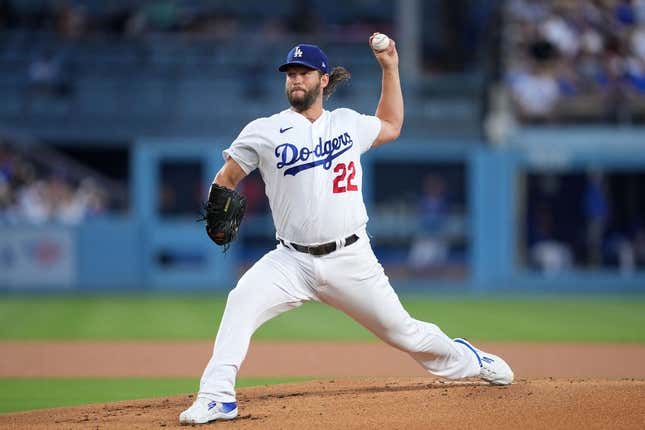 After dropping a series against the top team in the National League, the Los Angeles Dodgers face further uncertainty in advance of a three-game set against the host Miami Marlins.
How running an NFL team is like running a restaurant | Chef Emeril Lagasse
Left-hander Clayton Kershaw will pitch in the series opener on Tuesday, but fellow left-hander Julio Urias, who was scheduled to pitch in Thursday's series finale, was arrested Sunday on felony domestic violence charges.
The situation adds further questions for a rotation that has dealt with absences all season. Urias did not travel to Miami with the team Monday, leaving Los Angeles down to four set starters — Kershaw, Lance Lynn, Bobby Miller and Emmet Sheehan — for the time being.
Kershaw (12-4, 2.48 ERA) had a six-week absence earlier this season with shoulder discomfort, making four short but effective starts for the Dodgers (84-52) since his return, posting a 2.12 ERA over his last 17 innings.
Kershaw did not pitch in the Dodgers' most recent series when they lost three of four games at home against the Atlanta Braves. Without his elite pitch mix last Tuesday against the Arizona Diamondbacks, he still managed to give up just one run in five innings while picking up the win.
"This guy is one of the greatest competitors I've ever seen," Dodgers manager Dave Roberts said of Kershaw. "What I saw was will, compete, and just tenacity. He wasn't going to be denied.
"Clearly, he didn't have his best stuff, but he was going to get through five innings, find a way to give us a chance to win a ballgame, and when you think you can't have more respect for a player, he goes out and does something like this."
In 14 career starts against the Marlins, Kershaw is 7-5 with a 2.68 ERA. Miami is one of 14 teams that Kershaw has made double-digit starts against while also posting an ERA of 3.00 or better.
While the Dodgers are closing in on a National League West title and a top-two seed in the NL playoffs, the Marlins (70-67) are trying to land one of the league's three wild-card spots and are just outside of that mix entering Tuesday.
The Marlins will have their own left-hander on the mound in Jesus Luzardo (9-8, 3.62), who does not have a decision in three appearances (two starts) against the Dodgers, posting a 3.68 ERA in 14 2/3 innings.
Luzardo is much improved over his last two starts after a three-start stumble at the beginning of August when he went 0-3 with an 11.68 ERA.
While delivering 12 scoreless innings over his last two outings, Luzardo took a no-hitter into the sixth inning last Wednesday against the Tampa Bay Rays. Miami eventually dropped a 3-0 decision that left it with five losses in six games.
Miami then got back on track with a four-game road sweep of the Washington Nationals that concluded with a 6-4 victory on Sunday.
"We are playing really good baseball right now, and we just need it to continue," said major league batting leader Luis Arraez, who went 10-for-18 (.556) with six runs scored against the Nationals. "We came here and said, 'We just need to stay together.'"
Arraez is batting .356 this season after delivering a .433 average over his current seven-game hitting streak.
—Field Level Media