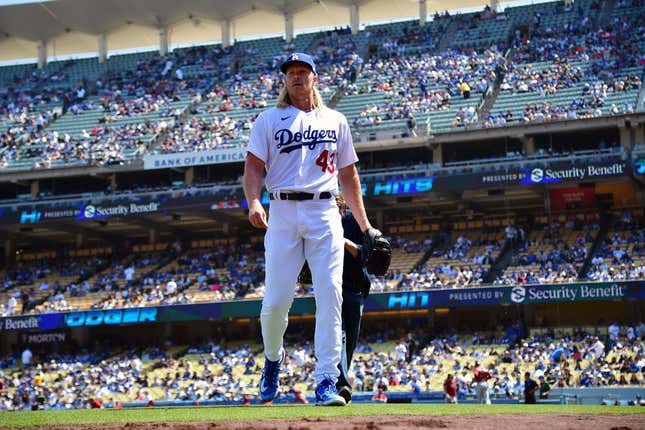 Noah Syndergaard had no complaints about his individual performance in his debut with the Los Angeles Dodgers, but the Arizona Diamondbacks still found a way to spoil it
Will South Beach Flu give the Heat home court advantage? | Keep it a Buck(et)
Syndergaard had to settle for a no-decision after allowing just one run through six innings on Sunday, eventually watching his team come up just short against its National League West rival.
However, the Dodgers will have another chance to offer Syndergaard some run support on Saturday night when the right-hander takes the hill for Los Angeles against the Diamondbacks in Phoenix
Syndergaard (0-0, 1.50 ERA), who spent last season with the Los Angeles Angels and Philadelphia Phillies, allowed just four hits and struck out six without issuing a walk on Sunday. Will Smith's first-inning solo home run was followed by just three hits the rest of the way by the Dodgers in their 2-1 loss
"I just wanted to go out there and execute and attack hitters and leave a really good first impression," Syndergaard said after his outing. "All in all, I think it was a really good outing -- it's just unfortunate that we lost."
Los Angeles followed a similar script on Friday in another loss to Arizona. Solo shots from James Outman and Chris Taylor helped the Dodgers claim a 3-2 edge in the fourth inning, but the Diamondbacks scored four unanswered runs to earn a 6-3 victory
"Today was the type of game I've been waiting for," Arizona manager Torey Lovullo said. "These guys have been working their tails off offensively, and you could see we had a great approach, all-field approach, with timely hitting. It was a lot of fun."
Although there were offensive lapses, there was no shortage of positives in Los Angeles manager Dave Roberts' eyes.
"James, obviously, I thought that was really good. I thought Freddie (Freeman is) still taking good at-bats," Roberts said. "(Taylor) hit a homer, so I think that he's been taking some good at-bats, and to see him get rewarded was a good thing."
Arizona right-hander Zach Davies (0-0, 1.80 ERA) will attempt to continue to keep the Dodgers' lineup at bay. Davies made his season debut against Syndergaard on Sunday and also logged a strong outing, allowing one run on four hits in five innings. He walked two and fanned four
Davies is 4-5 with a 3.07 ERA in 15 career appearances (all starts) against the Dodgers
Like Syndergaard, Davies will look for more run support in his second outing of the season. Arizona has only 27 runs this season, tied for fifth fewest in the major leagues. Although the team hasn't found its rhythm yet, one of its veterans has.
At 37 years old, Evan Longoria seems to be experiencing a resurgence in his first season with the Diamondbacks. He is 6-for-14 (.429) with two homers and two RBIs in five games. One of those home runs came Friday when Longoria went back-to-back with Corbin Carroll
"I want to produce on the field, first and foremost," Longoria said. "When I came here (from the San Francisco Giants), there was a lot of talk about being a mentor, but I'm still putting on a uniform to go out and play the game. I don't just want to go 0-for-4 and be the guy who guys are asking questions like, 'How was it 15 years ago?"
Longoria will look to continue his hot hitting vs. Syndergaard, who is 3-1 with a 2.27 ERA in five career starts against Arizona.
--Field Level Media