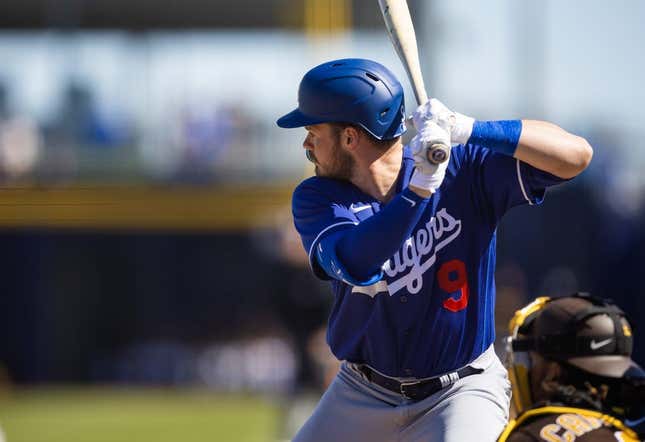 Los Angeles Dodgers shortstop Gavin Lux is expected to miss the 2023 season after sustaining a torn ACL in his right knee.
"Gavin is obviously crushed. It's a huge blow," Dodgers manager Dave Roberts said Tuesday. "My heart goes out to him -- all of ours does."
Lux was expected to be the team's starting shortstop this season after Trea Turner left in free agency. Veteran Miguel Rojas likely will handle the majority of playing time at the position, per Roberts, with Chris Taylor seeing playing time.
Lux was carted off the field Monday after injuring the knee running the bases in a spring training game against the San Diego Padres in Peoria, Ariz.
Lux, 25, had an MRI on Monday. He will undergo surgery on March 7 in Los Angeles.
Lux played a career-high 129 games last season mostly at second base. He batted a career-high .276 with a National League-leading seven triples and 42 RBIs.
In parts of four major league seasons with the Dodgers, Lux owns a career .253 average, .329 on-base percentage, .383 slugging percentage, 18 homers and 105 RBIs in 273 games.
Rojas, who was acquired in a trade with the Miami Marlins on Jan. 11, said he's ready for the added responsibility.
"For me, this is what I've been preparing for. I've been playing shortstop every day for the last four, five years of my career. I went into the offseason thinking that I need to prepare for 162 games and here it is," Rojas said. "I see here's an opportunity that I'm not going to take for granted. I know what I have to do to be part of a winning team. I'm looking forward to this opportunity and to actually post every single day and be ready to contribute as much as I can to win the World Series."
Rojas, 34, batted .236 with six homers and 36 RBIs in 140 games last season, his eighth with the Marlins. Rojas is a career .260/.314/.358 hitter with 39 homers and 269 RBIs for the Dodgers (2014) and Marlins.
Rojas can play all over the infield but has 719 appearances at shortstop.
--Field Level Media