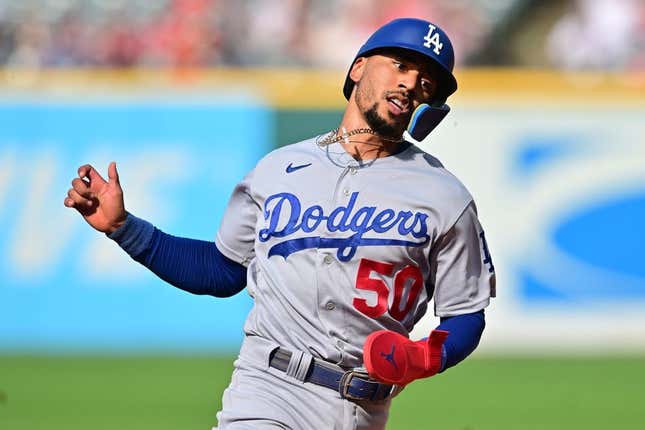 The Los Angeles Dodgers scored a road doubleheader sweep on Thursday, riding a four-run fifth inning to top the Cleveland Guardians, 9-3.
Is Texas or Florida State a bigger national title contender? | Agree to Disagree
Los Angeles opened the day cruising to a 6-1 win with the resumption of Wednesday's contest, suspended due to weather. Though the Dodgers showed no ill effects from the game being suspended — or a delay of more than an hour before the ninth inning of the first contest — they started slowly in Thursday's second contest.
Cleveland struck first with two runs in the second inning, the first of which came on Gabriel Arias' steal of home. Arias got aboard with a leadoff single then advanced to third on a Will Brennan single.
Brennan then scored on Bo Naylor's double to right. Both runs came off of Ryan Yarbrough, who pitched three innings after relieving Dodgers starter Caleb Ferguson.
The reliever Ferguson pitched two-thirds of an inning in the first game of the series on Tuesday.
The Guardians' lead was short-lived, however, as Enrique Hernandez led off the third inning with a double and then scored on a Mookie Betts single. Betts, who went 5-for-5 in the day's first game, finished 2-of-3 in the second.
Betts moved to third on a Freddie Freeman double, then scored on a David Peralta groundout.
Los Angeles added another run in the fourth on a Michael Busch solo home run — his second of the season — before blowing the game open in the fifth.
Betts led off with a single, followed by another from Freeman. Peralta walked, loading the bases before Cleveland starter Gavin Williams forced Max Muncy into a fielder's choice that prevented Betts from scoring.
But Ramon Laureano committed a fielding error on the next at-bat and Freeman scored. Then, James Outman hit a single to drive in Peralta and Muncy, while Jason Heyward reached third on another Cleveland error.
Los Angeles plated one more in the inning with Busch driving in Heyward on a sacrifice fly off of Hunter Gaddis.
Williams (1-5) took the loss after giving up seven runs, five earned, in 4 1/3 innings. Gaddis, who pitched 4 2/3 innings, was charged with two earned runs. One came on a Hernandez double to score Outman in the seventh, then Hernandez homered in the ninth to cap his 3-for-5 performance.
Ryan Pepiot (1-0), who struck out six in four innings, earned the win for Los Angeles.
—Field Level Media