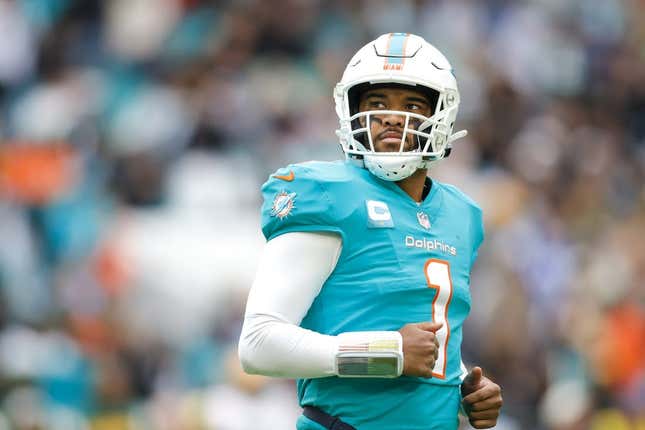 Miami Dolphins quarterback said Wednesday that he considered retirement in the offseason after the concussions he suffered during the 2022 season
'Soccer fandom is full of gatekeepers' says Ted Lasso actor Brendan Hunt
Tagovailoa, 25, made the comments at the Dolphins' pre-draft press conference
Tagovailoa's 2022 season ended on Christmas after his second documented concussion of the season. He was also out Sept. 30-Oct. 22 following a head injury at Cincinnati that caused the NFL to revise the league concussion protocol.
But Tagovailoa said he wants to play long enough for his son to understand what he watches his Dad do for a living.
"I considered (retirement) for a time, having sat down with my family, having sat down with my wife and having those kinds of conversations," Tagovailoa said. "But really it would be hard for me to walk away from this game with how old I am. ...
"It's my health, it's my body. I feel like this is what's best for me and my family. I love the game of football. If I didn't, I would have quit a long time ago."
Instead, Tagovailoa said he's learning how to fall.
Still a white belt in jiu-jitsu, Tagovailoa said he went back with his martial arts coach and watched plays of him getting tackled to teach himself how not to land like that in the future.
"I want to get better at everything that I can do to help the team win games. And I know the biggest one is my health, staying out on the field," he said. "So, looking at the film, I was able to watch that with my jiu-jitsu coach and we were able to kind of relive the scenario and how I got tackled, how I fell.
"Multiple ways I got taken down and how I could have prevented that."
The Dolphins exercised quarterback Tagovailoa's fifth-year option in March. He's now signed through the 2024 season. The option covering next season is worth $23.2 million
Miami used the fifth overall pick in the 2020 draft to select Tagovailoa.
In 2022, his first season with new coach Mike McDaniel, Tagovailoa posted career bests in nearly every category and was 8-5 as a starter. He had 3,548 passing yards, averaged 13.7 yards per completion with 25 touchdowns, eight interceptions and a passer rating of 105.5.
--Field Level Media