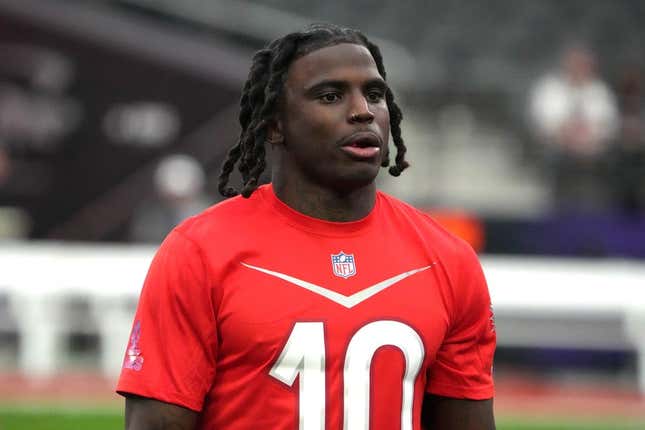 Wide receiver Tyreek Hill has set lofty goals for both himself and the Miami Dolphins in the upcoming season
How running an NFL team is like running a restaurant | Chef Emeril Lagasse
Hill said on his podcast, "It Needed to be Said," that he will become the first pass catcher in NFL history to break the 2,000-yard receiving mark. Hill also added that the Dolphins will win the Super Bowl for the first time since they captured back-to-back titles in the 1972 and 1973 seasons (Super Bowl VII and VIII)
"I will break 2,000 yards next year, bro," Hill told co-host Julius Collins. "I'm just checking it off my bucket list. All I'm going to say is 2,000 yards was on my bucket list to get before I leave this league. You all think the Cheetah gonna leave without doing something he promised himself he was going to do as a kid? 2,000 yards and another Super Bowl. We're getting that. Believe that."
Hall of Fame member Calvin Johnson holds the receiving yards record with 1,964, set in 2012. He averaged 122.8 receiving yards per contest while playing in all 16 games that season for the Detroit Lions.
Hill, 29, was on pace to eclipse that receiving yards total through his first nine games in 2022 before settling for career highs -- and franchise-best totals -- in catches (119) and receiving yards (1,710). The four-time All-Pro and seven-time Pro Bowl selection caught balls from three different quarterbacks: Tua Tagovailoa, Teddy Bridgewater and Skylar Thompson.
"I feel like I've got the right tools around me," Hill said. "I've got obviously the most accurate quarterback in the NFL (in Tagovailoa), I've got one of the best head coaches in the NFL (Mike McDaniel) and also my position coach is a monster also (Wes Welker). So just having those three things and me just keeping the same mindset each and every day that I want to get better and I want to break the record and I do want to break the record.
"So I feel like this is one of those years that I can achieve it."
--Field Level Media