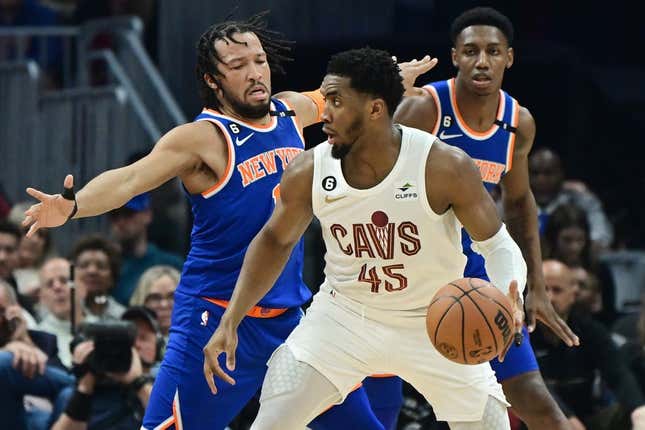 The acquisitions of Donovan Mitchell by the Cleveland Cavliers and Jalen Brunson by the New York Knicks last summer proved to be the most pivotal offseason moves made within the Eastern Conference
Bass' ERA stinks, but not compared to who he is off the mound | Worst of the Week Countdown
A referendum on which deal worked out best begins Saturday night, when the Cavaliers host the Knicks in the first game of a best-of-seven Eastern Conference first-round playoff series
Conjecture in New York after last season had the Knicks trying to pair Mitchell, a native of nearby Westchester County who was on the trade block with the Utah Jazz, with Brunson, an impending free agent after four seasons with the Dallas Mavericks
The union didn't materialize, but Mitchell and Brunson proved to be the missing pieces for a pair of long-suffering teams.
Mitchell, who was acquired from the Utah Jazz on Sept. 3, ranked seventh in the NBA with a career-high 28.3 points per game in leading the Cavaliers to a 51-31 record, a fourth-place finish in the East and their first playoff berth since the final season of LeBron James' second stint in 2017-18
The playoff berth is the first for the Cavaliers without James on the roster since the 1997-98 season, while the 51 wins are the most for a James-less Cleveland team since the 1992-93 club finished 54-28
"When I came here, my expectation wasn't just to make the playoffs," Mitchell told the Akron Beacon Journal after the Cavaliers clinched a playoff spot by beating the Houston Rockets on Mar. 26. "It's to make a run, never be satisfied and trying to find ways to continue to make a run and win this championship.
Brunson, who started just 127 of the 277 games in which he played for the Mavericks, started all 68 games he played in this season and averaged a career-high 24.0 points and 6.2 assists while helping the Knicks - with whom he signed as a free agent on July 12 - to a 47-35 record and a fifth-place finish in the East
The trip to the playoffs is the second in three seasons for New York, which missed the postseason seven straight times before the 2020-21 campaign, while the 47 wins are its most since the 2012-13 team went 54-28.
"If you paid attention whenever they had people out in Dallas, he's always played well when he filled in, started - and just having been around him, what he did in high school, state tournaments and at Villanova," Knicks head coach Tom Thibodeau said of Brunson, who won two national championships in three seasons with Villanova. "Big games. He's always played his best in big games. We all knew that. That's just who he is.
While Mitchell and Brunson are the biggest stars on the court, the series may be determined by the health of forwards Isaac Okoro and Julius Randle.
The Cavaliers were 24-14 after Okoro was inserted into the starting lineup Jan. 4, but he missed the last six games with a sore left knee. Randle averaged 25.1 points and 10.0 rebounds in a resurgent season for the Knicks before missing the final five games with a sprained left ankle. Okoro and Randle have each been limited participants in practice this week
The Knicks went 3-1 against the Cavaliers this season with a pair of wins in New York on Dec. 4 (92-81) and Jan. 24 (105-103). Cleveland earned a 121-108 win in Ohio on Oct. 30 before visiting New York recorded a 130-116 victory on Mar. 31
This is the fourth postseason meeting between the teams. The Knicks swept a best-of-three first-round series from the Cavaliers in 1978 before earning series wins in best-of-five first-round matchups in 1995 and 1996
--Field Level Media