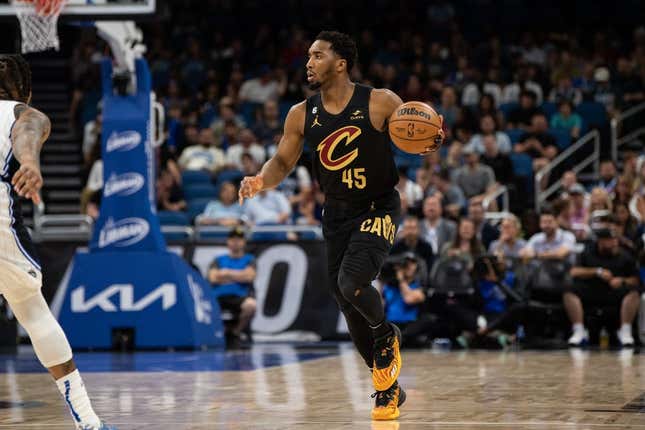 Donovan Mitchell recorded his fourth consecutive game of 40-plus points, finishing with 43 to lead the Cleveland Cavaliers past the host Orlando Magic, 117-113, on Tuesday
'Soccer fandom is full of gatekeepers' says Ted Lasso actor Brendan Hunt
Mitchell shot 4-for-6 from the floor in the fourth quarter to close out a 15-of-23 shooting performance and scored 12 of his points over the game's final 7:10 to help Cleveland (50-30) hold off Orlando down the stretch of what was a back-and-forth contest throughout.
Neither team led by more than nine points and the two exchanged leads 11 times -- with one lead change coming with 3:53 remaining when the Magic (34-45) capped a 10-0 run
Orlando's late advantage was fleeting, though, as Caris LeVert answered Paolo Banchero's go-ahead bucket on the next possession with a 3-pointer that closed LeVert's 19-point performance off the bench and gave Cleveland the lead for good.
LeVert shot 5-for-6 from beyond the 3-point arc to pace the Cavaliers' 15-for-31 performance from long range
Darius Garland posted a double-double in the win, which secured Cleveland its first 50-win season since the 2017-18 campaign. Garland went for 16 points and distributed a game-high 10 assists.
Evan Mobley added 14 points, seven rebounds and four assists, and Jarrett Allen finished with 12 points, seven rebounds and two blocked shots.
Markelle Fultz led Orlando with 23 points on 11-of-17 shooting from the floor. He also dished out a team-high eight assists.
Banchero and Wendell Carter Jr. each posted double-doubles in the loss -- Banchero with 20 points and 10 rebounds, and Carter with 17 points and 12 boards. Banchero added four assists while Carter had three.
Orlando got another 17 points from Franz Wagner and 15 points off the bench from Cole Anthony. Goga Bitadze rounded out Orlando's double-figure scorers with 10 points and six rebounds in 16 minutes off the bench.
--Field Level Media