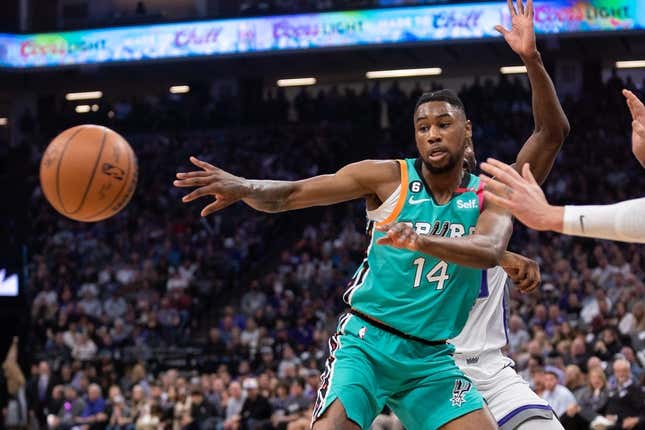 Doug McDermott poured in nine of his season-best 30 points in overtime as the visiting San Antonio Spurs outlasted the Sacramento Kings 142-134 on Sunday to snap a six-game losing streak
Julian Champagnie added a career-high 26 points for the Spurs (20-58). Tre Jones racked up 17 points and 11 assists and 10 rebounds for San Antonio
De'Aaron Fox led the Kings (47-31) with 28 points while Domantas Sabonis had 26 points and eight rebounds
The Spurs were up 121-118 after a short jumper by Zach Collins with 1:41 to play in regulation. Fox cut the Kings' deficit to a point with a bucket with 1:27 left and Sabonis tied the game with a free throw with 59.4 seconds remaining in the fourth quarter
Two free throws by San Antonio's Dominick Barlow with 44.6 seconds to play were answered by a jumper by Fox that tied the game with 36.9 seconds left in regulation. Sacramento's Kevin Huerter missed a 3-pointer at the buzzer, and the contest went to overtime.
The Spurs never trailed in the extra period, riding five straight team points from McDermott to go up 134-130 with 2:32 to play. After a layup by Sacramento's Harrison Barnes cut the lead to two points, McDermott hit another short jumper and Jones followed with a driving layup to push the San Antonio lead to six points
Collins scoring 16 points, Malaki Branham hitting for 15 and Barlow scoring 10 points and taking 12 rebounds.
Keegan Murray scoring 18 points, and Barnes and Terence Davis hitting for 15 points apiece for the Kings
Barlow hit a late jumper to give San Antonio a 32-30 lead at the end of the first period.
The game went back and forth in the second period, with the Kings going up by as many as five points after a three-point play by Huerter with 8:16 to play in the quarter. San Antonio answered to take a 45-43 lead on Collins' 3-pointer at the 5:05 mark and Barlow's buzzer-beating dunk produced a 63-58 lead for the Spurs at the break
Champagnie led all scorers with 22 points (10 more than his previous career-high for a whole game) before halftime. Murray paced the Kings with 13 points in the half with Huerter and Davis adding 10 points each
--Field Level Media